When Gartner shared its top tech trends for 2015, we learned that the number of Chief Digital Officer and Chief Data Officer roles have doubled since last year – and are expected to double again. As one might imagine, this will rock the c-suite's world.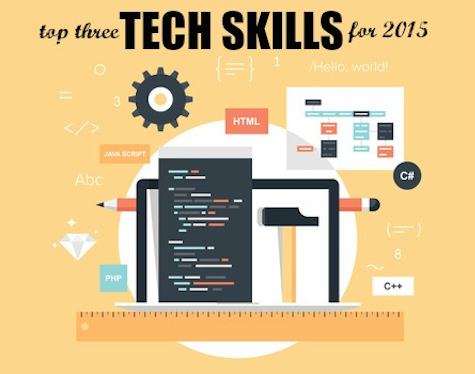 75% of IT execs say they need to change their leadership style within the next three years.

By 2017, 50% of total IT spending will occur outside of IT.

Also by 2017, 70% of successful business models will be deliberately unstable.
In short: Silo-ed roles are out, blended skills are in. As more businesses use data to scale, employees must be agile enough to switch tactics on a dime. Gartner says, "This holistic approach blending business model, processes, technology and people will fuel digital business success."
Rajeeb Dey agrees. He's the founder/CEO of Enternships, a London-based startup that connects students and recent grads to roles in small businesses. As the digital economy explodes, senior leaders need millennials to teach them the ropes of new, uncharted roles. The same holds true for startup CEOs.
"We are definitely seeing a rise in employers interested in data science and general data analysis skills, whether that be for specialist data scientist roles or roles such as growth hacking, which combine skills from both marketing and the ability to analyze and manipulate data," Dey told GA.
"We at Enternships are also predicting that 2015 will see the rise in demand for talent proficient with next gen technologies such as Meteor, which is based on real-time JavaScript frameworks and facilitates the development of web apps far more easily than existing solutions."
Let's unpack these roles in more detail:
1. Data Science
What it is: According to Harvard Business Review, a data scientist is "a high-ranking professional with the training and curiosity to make discoveries in the world of big data." How do you know if your business needs one? HBR continues:
"If your organization stores multiple petabytes of data, if the information most critical to your business resides in forms other than rows and columns of numbers, or if answering your biggest question would involve a 'mashup' of several analytical efforts, you've got a big data opportunity."
Where it's From: The Data Scientist title – coined by D.J. Patil and Jeff Hammerbacher – is only six years old. Patil and Hammerbacher formed the first formal data science programs while at LinkedIn and Facebook, respectively. Today, Patil is Data Scientist in Residence at Greylock Partners, one of the world's most successful VC firms. Hammerbacher is Founder and Chief Scientist at Cloudera.
Skills of the Successful: Data scientists can view a wide range of data, present a hypothesis, and execute in such a way that their analysis fills a business gap.
Role Model: While at LinkedIn, Jonathan Goldman reviewed company data and saw untapped opportunity. What would happen, he asked, if he used analytics to link user profiles? Despite discouragement from colleagues, he forged on – and his idea became LinkedIn's "People You May Know" feature. Today, he's Intuit's Director of Data Science and Analytics.
2. Growth Hacking
What it is: "A hybrid of marketer and coder" that helps acquire customers at scale, while keeping the cost of each new customer as close to 0 as possible.
Where it's From: Sean Ellis coined the term in 2010. He led marketing at Dropbox for six months after the end of their private beta. As of 2014, one billion files are saved to Dropbox every 24 hours, and the company was valued in January at $10 billion.
Skills of the Successful: "I believe the people who excel as growth hackers are entrepreneurial marketers with a passion for data," explains Howard Kingston, co-founder of Adludio and Digital Marketing instructor at GA London. "This is because you need to be constantly looking for a new opportunity, and not be afraid to try new things – just like an entrepreneur!"
Role Model: Before Adludio, Kingston served as Head of Gaming at We R Interactive, a social gaming startup. He reviewed which countries were increasing free users vs. those where the user base was smaller, but spent more on in-app purchases. His analysis grew the game to six million users in his first year on the job. Like data science, Kingston says the marriage of marketing with analytics is key – and adds that the most successful growth hackers have direct access to the product that they work with.
"Growth hacking suffered a bit of a backlash as an overused buzz term in 2014, mainly due to people using it incorrectly," Kingston says. "As more people understand it, I believe more people will challenge those who are using it incorrectly!"
3. Meteor.js
What it is: An open-sourced framework to build real-time web and mobile apps in pure JavaScript. Meteor is built on top of Node.JS and bundled with MongoDB. This means that if you're building an app with Meteor, you can do so using one framework. The same code runs on both client and server, producing real-time web apps for a fraction of the code.
Where it's From: Meteor first launched as Skybreak in 2011. It was part of the same Y Combinator that launched Dropbox, and raised $11.2 million in 2012. That same year, Meteor gained bragging rights as Github's most starred repository.
Skills of the Successful: Those who can code should add Meteor to their repertoire. It's regularly cited as the fastest way to build new apps. It's also one of the first frameworks to encompass the functionality of the entire MEAN stack (MongoDB, Express, Angular, and Node.JS). Plus, JavaScript is used by beginners and experts alike. If you've never written a line of code, you can still learn Meteor and build the next big platform.
Role Model: Meteor co-founder Matt DeBergalis was inspired by the "thick client" architecture used by some of the world's most successful web apps. "This…is how modern apps like Gmail, Asana, Twitter, and the photo browser in Facebook are built," he explained to IBM. "But those apps were written by large teams of expert developers, who each invested years of development into the technical underpinnings of client-side web apps.
"Meteor is a complete platform for writing apps in this style," DeBergalis added. "Because it uses a single language and a consistent API across all parts of an application, developers can juggle fewer technologies and work faster. That's why developers who know Meteor can build applications in hours that would otherwise take weeks."
Question: What other skills do you expect to be critical in 2015 and beyond?
This article originally appeared on FirstJob.com and has been republished with permission. Locate top-talent Millennials for your mentoring program at FirstJob.com.

Consider Ryan to be your next keynote speaker by clicking here...