The Next Generation Catalyst Podcast episode #090.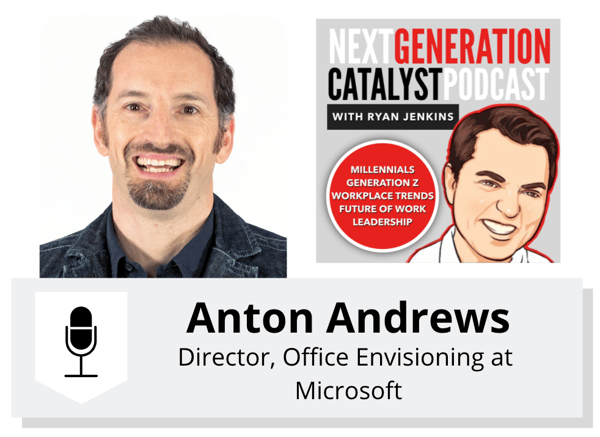 Millennial and Generation Z keynote speaker and author, Ryan Jenkins, welcomes Anton Andrews, Director, Office Envisioning at Microsoft, to the Next Generation Catalyst Podcast.
The topic discussed is envisioning the future of work and life. We also cover...
Microsoft's experimental futuristic work and life concept space
Why innovation is now a survival issue
How organizations can utilize their organizations as human networks
Why knowledge flow should be fast, transparent and participatory
How technology (like A.I.) help workers to better control their focus
Why learning is so critical and how Microsoft has cultivated a culture of a "discoverers mindset"
And more...

Episode Shownotes:
Listen or subscribe to the Next Generation Catalyst Podcast on iTunes or Stitcher.

I help companies better lead, engage, train, and sell to Millennials and Generation Z. If you'd like help solving tough generational challenges inside your organization, click here.
Full disclosure: Microsoft paid my way to attend The New York Times New Work Summit, a conference about the future of work. They did not pay me to write this post.