Every organization needs a social media strategy and soon—probably sooner than you think—that strategy may include Snapchat. Ubiquitous among Millennials, Snapchat, is a messaging application that allows users to take photos, record videos, add text and drawings, and share them with followers. Users can also explore news from publishers such as Vice, ESPN, Comedy Central, and more.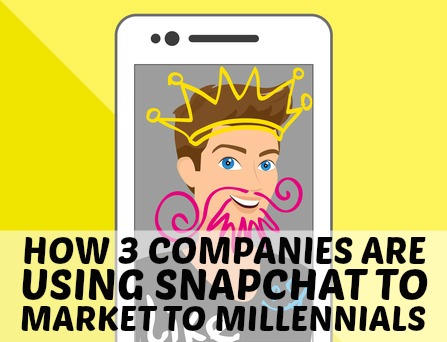 Using Snapchat to market to Millennials (or Generation Z) is a new must. Snapchat is one of the fastest growing social networks—growing 69% among Millennials age 25 to 34, according to ComScore.
Snapchat users are limited to 10 second videos, but over the course of 24 hours, users can collect multiple "snaps" into an overall "story" that friends can watch all at once. Snapchat is perhaps the most different social network and the most difficult to figure out. Here is a detailed Snapchat tutorial.
Don't let the fear of the unknown or the steep learning curve discourage you from aggressively exploring Snapchat because the stakes are lower since the content disappears after 24 hours (with the exception of a user screenshoting part of a video, so don't create anything that could be taken out of context with a single screenshot). Other platforms like Instagram or Facebook are better for long-term brand portfolios.
Here's how a few companies are leveraging Snapchat to connect and engage with Millennials.
1) Go Behind the Scenes
DayDreamCinema, a multimedia marketing agency, uses Snapchat to take it's fans, customers, and candidates behind the scenes. "Snapchat is a glimpse into the lifestyle of your company," says Jessica Maslin, directing partner at DayDreamCinema. "We have a lot of fun at work so we want people to see that. We shot an ad for Michael Jordan kid shoes last week but that edit won't get release for 8 months. On Snapchat it's easy for people to watch and see how cool that is. They wonder how we're filming and what it'll look like in the end."
Action: Consider a weekly video series that highlights your product/service or a day in the life of one of your employees through a Snapchat video series (aka Snapchat Story).
Related read: The Secret Sauce of 3 Restaurants That are Cultivating Millennial Loyalty
2) Encourage Engagement & Offer Customer Promotions
Snapchat provides users a special QR code that people can take a photo of to automatically enroll as a follower. Squeeze In, a California breakfast and lunch chain, displays their Snapchat QR code on dining tables and encourages customers to engage with them on Snapchat while they wait for their food. Once on Snapchat, Squeeze In serves up promotions to their followers by encouraging them to take a screenshot of a coupon that appears in a story. The screenshot can then be redeemed in stores just like a regular coupon.
Action: Promote your Snapchat QR code online (Facebook, Instagram, etc.) and offline. Then consider inserting coupons or giveaways into your Snapchat stories.
Related Read: Marketing to Millennials: How 5 Brands Are Adjusting to Earn Generation Loyalty
3) Allow Influencers to Take Over
UsTrendy, a marketplace for fashion designers and boutiques, carefully and strategically delegates their Snapchat account to outsiders. UsTrendy allows influential bloggers in the fashion community to take over their Snapchat account for the day. The influencers try on clothes and post photos and videos and then they promote the UsTrendy Snapchat account to their followers.
Squeeze In does something similar in that they pass their Snapchat account around to different employees at different locations. Employees will snap photos and videos of customer interactions, food preparation, and secret handshakes in the hallway. Squeeze In believes this keeps their content "fresh and engaging" and avoids feeling "too corporate."
Action: Consider partnering with an online influencer in your industry that could take over your Snapchat account for 1 day.
Don't get romantic with the way you used to reach customers or engaged Millennials, instead adjust your marketing to where the attention is…on Snapchat.
Question: Will you use Snapchat for business? Why or why not?
Consider Ryan Jenkins to be your next Millennial/Generation Y or Generation Z keynote speaker by clicking here...