I have good news and bad news. The bad news is that it's hard to get heard in today's noisy world. The good news is that today's social web enables you to connect directly with the media. No more dreaded gate keepers. If you're interested in more exposure for your brand or business but don't want to break the bank on a PR team? Then consider investing some sweat into the below strategy.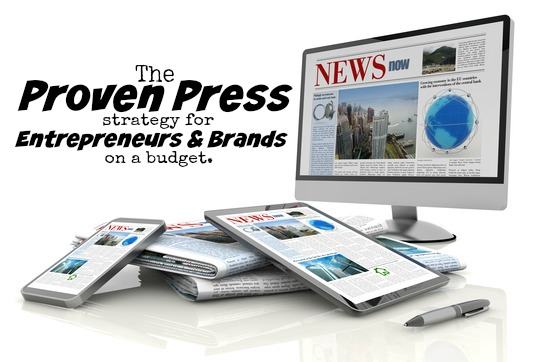 This press strategy is something I have been refining over the last few months and one of my most recent and notable wins was scoring an interview with Fast Company using this strategy. I share these wins not to impress you but to impress upon you that the this strategy works and I hope you achieve similar success.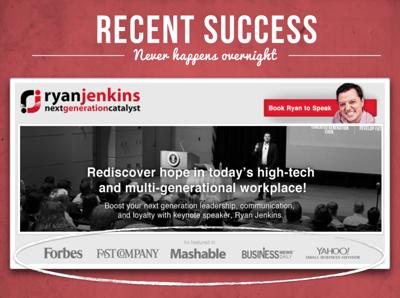 The benefits of this press strategy are three fold:
Increased credibility.

Increased exposure to potential clients.

Enhanced SEO (search engine optimization). When Google crawls a credible website like Fast Company and finds that your website is linked in the article, Google will then consider your website more credible and thus boost you in their rankings.
To ensure this strategy will work, you must have the following:
Credible brand. Your website and social networks must clearly communicate your expertise and demonstrate authority.

Credible content. The content you share via your blog or social media should represent your brand and reflect your expertise.

inCredibly consistent. To gain value from this strategy, you need to be consistent in your approach. I'd recommend weekly.
9 Proven and Budget Conscious Steps To Get More Press
You may already be using many of these tips and tactics but perhaps the below will serve as a more sequential blueprint to increase your efficiency. This strategy could work to gain appearances on TV, podcasts, blogs, or media sites. Below is an example of appearing on a media site.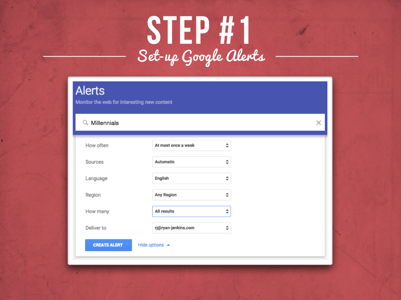 Google Alerts is a service that generates search engine results, based on criteria provided by you, and delivers the results to your inbox. Click here to set-up Google Alerts. The day you create the alert is when you will receive it. I receive my Google alerts on Monday and spend about 2 hours on this press strategy.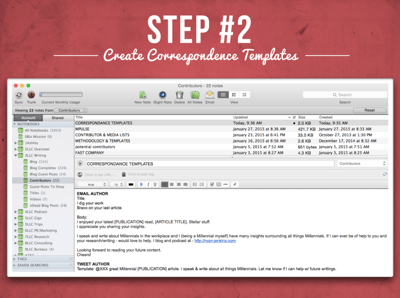 While you wait for the Google-bots to scour the Internet and do the hard part of curating content for you, create simple templates to help streamline the process. Pictured above is a screenshot of Evernote where I have created my template for this press strategy.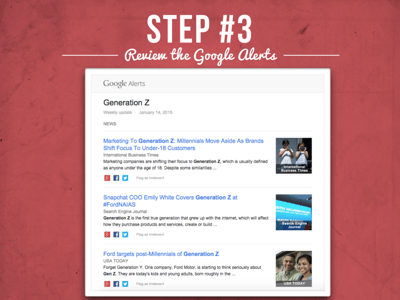 Once Google has delivered the search results on the keyword you selected, begin reviewing the results. Above is how the Google Alerts will appear in your inbox. The number of results can varying depending on the keyword selected. I'd recommend choosing 3-5 broad keywords surrounding your market. Look for relevant and eye-catching content. I also pay attention to the source looking for large media sites or niche blog sites.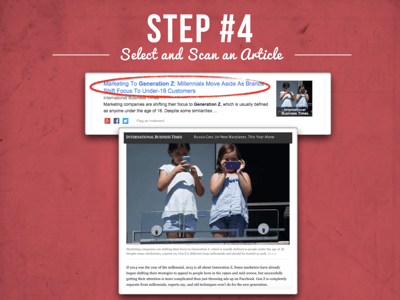 Select a relevant article and scan it. I prefer to scan since I will read 15-25 articles in one sitting. As you scan, make sure the article is not offensive. You don't have to necessarily agree with the author's perspective to contact them. Also while I scan the article, I am collecting insights and research for my blog, social media, and future presentations. This is primarily why I have not outsourced this task, it's how I stay relevant in my space.
Related Read: Slash Your To-Do List In Half With This Productivity Hack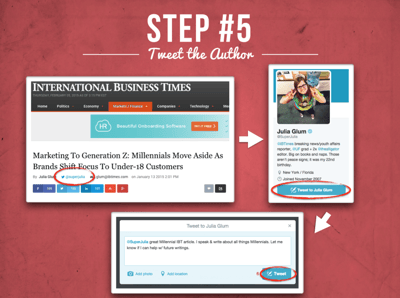 Most articles have a link to the author's Twitter page. Click their Twitter handle link. Once on their Twitter homepage, click "Tweet to USER." Then insert your tweet asking to provide insights for their future content that relates to your expertise or product/services.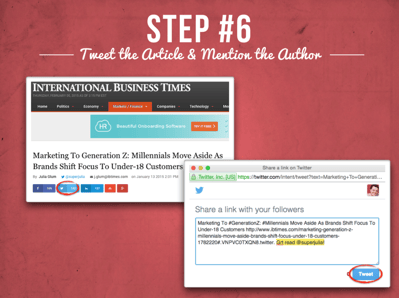 Authors write to be read so share their article with your network. Click the Twitter share button. Typically a pre-populated text box will pop-up but before you hit "Tweet" be sure to insert the author's Twitter handle that you tweeted to in step 5. This serves as another touch point with the author.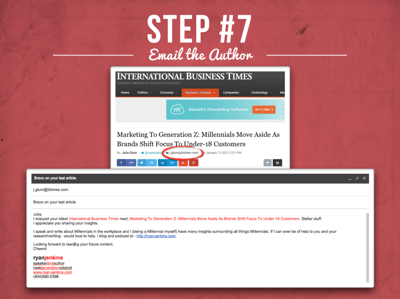 Sometimes authors will have their email linked to the article. Other times you may have to view their author profile, personal website, or social media accounts to find their email. If it takes to long to find their email, move on.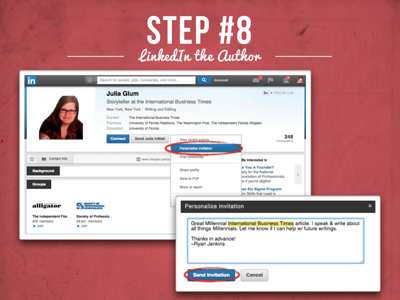 Many authors will also have their LinkedIn profile linked to their article. I don't think the "Personalize Invitation" option shown above is offered by LinkedIn anymore. Nonetheless click "Connect" and then be sure to personalize your invitation before sending.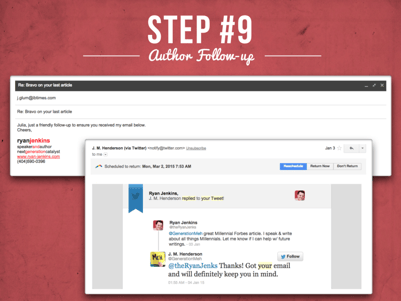 I use Boomerang for Gmail to remind me to follow up on my emails in a week and to follow-up via Twitter if the author has experienced some level of interest.
What Next?
Now that you've completed all 9 steps, three things may happen next.
Nothing. You can apply the 80/20 rule here and expect to only get a response 20% of the time. Don't take it personal, just press on.

Added to "source list." Authors may respond that they have added you to their "source list" for the next time they write on your topic. I have yet to hear back from an author after being added to this list. It usually takes me following up to advance the relationship.

Content requested. An author sees value in what you can offer and they may request an interview, quote, or for more information. Respond timely and provide them your best insights.
Question: What other press strategies have you found cost effective?
Consider Ryan Jenkins to be your next Millennial/Generation Y or Generation Z keynote speaker by clicking here...