The golf industry is three-putting when it comes to winning over the Millennial golfer. The sport and retail side of golf is struggling to find a new strategy to save the dying game. Is it too late for a mulligan?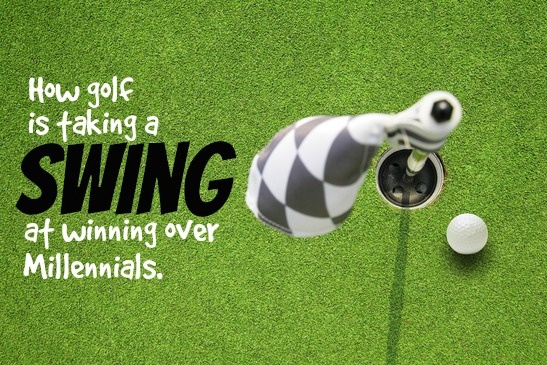 As a Millennial, I have an appreciation for golf. My dad saw golf as a family bonding and business tool and therefore encouraged my brother and I to learn to play. We learned and enjoyed playing casually as teenagers and through college.
Today, if I find myself with a 4 hour block of time, I prefer to fill it with relaxation, new and unique family experiences, catching up with old friends, or more work. Golf for me and for many other Millennials has become difficult to find the time, afford, and master.
How severe is golf declining?

Why is golf declining?
Time-intensive: The traditional 18-hole round can take about six hours door-to-door. (Even

Michael Jordan agrees that golf takes to long

which is why he is going to build his own course. #MustBeNice)

Elitist: Golf doesn't fulfill the Millennial values of inclusion and diversity. They'd prefer to play a quicker game of kickball or ultimate frisbee that includes more teaming.

High Difficulty: Golf is one of the few sports that doesn't offer a beginner option. There's no bunny hill for those that don't know how to golf.

Costly: According to data from the National Golf Foundation in 2013, the average fee for 18 holes with a golf car is $52.

What are the solutions to save golf?
Hack Golf

, an open-innovation initiative aimed at crowdsourcing the future of the game, has elicited over 1,470 practical ideas of how to make golf more fun like a smartphone app to reserve tee times, pay for services, and communicate with the pro shop. (Other ideas include relax dress codes and making the tee sheet transparent to see when friends are playing.)

Clubs in more than 30 states, including the PGA Country Club in Port St. Lucie, FL, are trying FootGolf which is a combination of golf and soccer. This solution offers a lower price point and difficulty level, and capitalizes on the growing popularity of soccer.

Other clubs are offering unique perks such as yoga and hovercraft rides.

PGA Tour superstars, Jack Nicklaus and Greg Norman, have advocated for 6, 8 and 12-hole designs.

Quadruple the size of the hole from 4.25 inches to a 15 inch diameter to make the game faster and easier. In some cases the new holes have reduced the length of an 18-hole round from 4:30 to 3:45, and improved golfers scores by 10 strokes. TaylorMade recently sponsored a 15-inch cup tournament. Here's a look:
My suggestions to save golf?
Gamify it. TopGolf, venues with point-scoring golf games for all skill levels, has given golf some serious street cred with the Millennials and Generation Z because it's ultra-connected and gamified. Players can chose from 7 different games and compete with smart golf balls that can be tracked for distance and location. Wearables and apps can bring the same level of engagement to the golf course.
Or in the opposite direction...
Promote golf as a getaway. As the world grows noisier, places where we can unplug and physically recharge will become more sought after. The open space and slow pace of golf could be exactly what our fast paced and tech dependent culture needs.
There is no doubt the sport of golf needs a shake up. Perhaps now is the time to call for a mulligan to tee-up the next chapter of golf in order to win over the next generation of players.
Question: Do you play golf? Why or why not?