In 2014, the World Cup, Ebola, the ALS Ice Bucket Challenge, Sochi Olympics, and Frozen captivated the world's curiosity. In 2015, the world's curiosity and attention will transfer to many of the culture shifts spurred by the many Millennials stepping into leadership roles and today's youngsters—Generation Z—becoming tomorrow's trendsetters. 2015 will surely be a breakthrough year.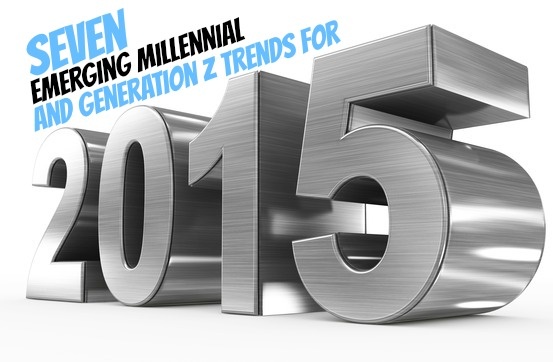 There aren't many areas of life that remain untouched by the influence of the Millennials and Generation Z. Below are some of the pivotal 2015 trends we expect to take shape as the Digital Native's careers achieve full swing and the "Screenagers" (those growing up with the Internet and social media) begin to make their presence known in the marketplace.
7 Emerging Millennial and Generation Z Trends for 2015
1) Social: Incognito, images, and Instagram will dominate.

2) Work: Company culture infused with innovation and entrepreneurship.

3) Marketing: Create one-of-a-kind experiences and tap into nostalgia.

4) Leadership: Honesty and development take high priority.

5) Education: Virtual and mobile learning go into overdrive.

6) Lifestyle: The rising revolution for fresh food.

7) Financial: Less is truly more, the new minimalism movement.

Question: What other 2015 trends do you anticipate?
Consider Ryan to be your next keynote speaker by clicking here...