Technology is now an extension of us. The new question of the day is not "if" but "when" should I introduce my kids to technology. Research has found that the Internet and technology have rewired our brains but is it for better or worse?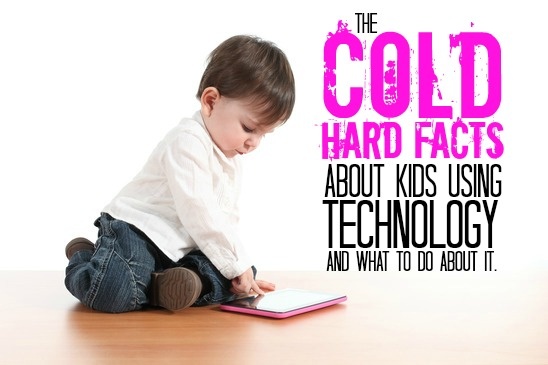 From the post 33 Data Points To Influence How You Sell, Teach, Recruit, and Lead Generation Z, we learn that today's youngest generation, Generation Z, is reading textbooks on tablets, watching lessons online, collaborating with classmates online, shopping online, and spending an average of 4.6 hours a day on social networks. The reality is that more and more kids are using technology at an earlier age and to say they are connected is an understatement.

Let's be honest…most of our tech habits as adults are a wreck. We are either drowning in email, addicted to Candy Crush, or allowing Facebook to steal our focus. But our blatant disregard for establishing a balance with technology isn't reason to deny the emerging generation of the tools that they will surely use to interact with the world.
Related Read: How Your Technology Habits Mirror These People Of 1947
If anything, the emerging generations should keep us accountable to better understand technology and to leverage it to enrich our lives so that we can become better role models for the youth that's navigating today's uncharted digital waters.
Perhaps you've read the article "Why Steve Jobs Didn't Let His Kids Use iPads" and found yourself in fierce agreement. No doubt it's an interesting read, however, Jobs was more equipped than most to teach his kids about technology. And I think if you asked Jobs the follow up question: "Do the positives of technology outweigh the dangers?" He would respond with a confident "Yes."
Not all kids have a technology visionary like Steve Jobs to call dad. In fact, I'd argue most kids lack an adequate parent or role model who has a healthy relationship with technology.
Related Read: If You Hate Technology Than You Must Hate Puppies Too
When technology is used or modeled appropriately, it can enhance learning, collaboration, innovation, and communication. The key is to lean into technology rather than deny the future generations of the very technology they will use to interact with classmates, friends, family, and eventually co-workers. Help them view technology as a tool to be mastered and not merely an escape.
New York Times Best Selling Author and entrepreneur, Gary Vaynerchuk, shares my perspective of children's tech use and my optimism about the future: "I'm not restricting hours of a second or third screen for my children because I think it's actually prepping them for the world that's actually going to exist."
Vaynerchuk goes on to relate technology to alcohol, saying that: "kids want to drink because in America we don't let them drink, and the kids who are restricted to 1 hour [of screen-time] a day will over value technology."
I don't think it matters how young your kids are when you introduce them to technology but rather what matters is how involved you are as a parent in guiding their use of it. You'll be better equipped to monitor and influence your children's tech use if you become a student of tech first. Practice a healthy diet of connected and disconnected behaviors.
Here's a small sample of the innovation and careers that technology unleashed for these kids...
16 year old, Ann Makosinski, created a flashlight that is powered by the human hand. 16 year old, Shawn Mendes, went from posting Vine videos online to international pop stardom. 11 year old, Hannah Alper, has addressed stadium-sized crowds across North America thanks to her eco-blog. 16 year old, Adora Svitak's TED Talk "What Adults Can Learn From Kids" has received over 3 million views. And 11 year old, Logan Laplante's TED talk "Hackschooling Makes Me Happy" has received over 7 million views.
Kids these days.
Question: Are you skeptical or optimistic about the emerging generation's tech use? And why?
Consider Ryan to be your next keynote speaker by clicking here...