If Steve Jobs and Apple have taught us anything, it's that design matters. BIG TIME. These days, design means so much more than a "purdy" look, it's more about functionality, relevance, inspiration, and simplicity. What does the design of your workspace communicate?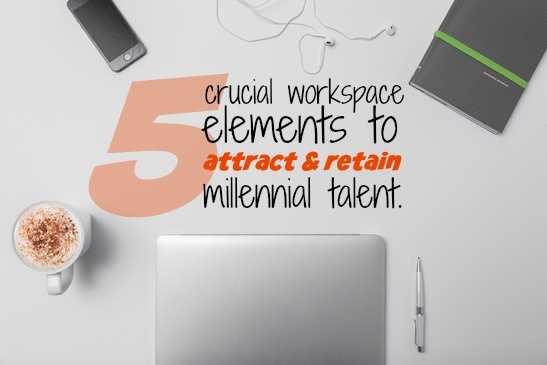 Your organization's workspace can be a catalyst for wooing prospective new hires. In fact, 78% of Millennials were strongly influenced by how innovative a company was when deciding if they wanted to work there. Seeing is believing. Would employees or visitors describe your workspace as innovative?
Related Read: What Millennials Want From The Future Workplace
As we take home more work and want more life at work, employees (especially Millennials) will desire a more rich and immersive experience at work. And that starts with the physical workspace. It can be a true catalyst in retaining Millennial talent. 79% of Millennials would rather be mobile than static while working. Providing a workspace that entices collaboration and offers a unique experience is a must.
Leveraging these 5 workspace elements can be your catalyst to attracting and retaining top Millennial talent.
1) Observe Often
The best and quickest way to improve your existing workspace is to observe where your team naturally gravitates. Once the high traffic areas are pinpointed, encourage the collaboration by streaming wifi to the area, offering food or drinks near by, or placing stools and high tables at the location.
2) Find Flexibility.
90% of managers believe that workers are more productive when given the flexibility to choose when and how they work. New research reveals employees (especially Millennials) get more done and have a better impression of their employer when they have workplace flexibility.
Today's projects and teams are diverse-er than ever before. Ensure your workspace caters to a wide range of needs and interests such as solo workstations, mobile workstations (e.g. desks with wheels), small team rooms, large conference rooms, lounge areas, and relaxed community areas. Be sure each environment is wifi enabled to spur spontaneity. And don't forget about offering flexibility around yoga, dogs, Xbox, and beer in the workplace.
Related Read: Leadership, Company Culture & Work Perks That Attract & Retain Young Talent With Craig Hyde [Podcast]
3) Cultivate Connections
At Pixar, Steve Jobs placed the restrooms in the center of the building so that people would serendipitously bump into each other and hopefully collaborate. Many organizations have benefited from a centrally located visual display of the team's projects. Having "scribble walls" seems to be a major trend to help unleash creativity. (I dig using IdeaPaint in my office.) Encourage exploration beyond the desk and office.
4) Visible Values
Millennials will be more engaged with a company when it's values are visible. Write it on the walls. Name meeting rooms after your values. Print it on the back of each person's business card. Create images or badges employees can share via social media. Loop videos with the organization's mission and values. Remember, vision leaks. If your team isn't sick of hearing about your values, keep promoting.
5) Nature Necessities
Become a student of the natural response humans have to their surroundings. Just as the sun provides human life, it can provide new life to workplace productivity. Natural light enhances energy and results in more productivity. Leverage accordingly in your workspace. Bright colors have also been proven to brighten moods. Color psychologist have found that blue is stimulating, green promotes calm, and yellow provokes creativity. Fast food restaurants have been notorious for using bright colors in their dining rooms to get customers feeling anxious so they get in and out. Other simple hacks that can make people feel better: nap rooms, meditation space, ergonomic chairs, and standing desks.
A simple search on Pinterest for "innovative workspaces" will be sure to jump start your workspace creativity. Here's an example.
"To attract and retain talent, business needs to show Millennials it is innovative and in tune with their world-view." ~Barry Salxberg, CEO Deloitte Touch Tohmatsu Limited
Design on.
Question: What's most critical to you in a workspace?
Consider Ryan to be your next keynote speaker by clicking here...