"To attract and retain talent, business needs to show Millennials it is innovative and in tune with their world-view." ~Barry Salzberg, CEO Deloitte Touch Tohmatsu Limited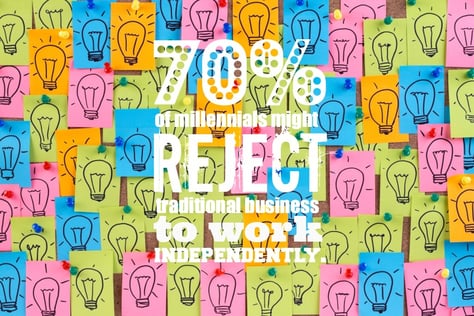 By 2025, Millennials will comprise of 75% of the global workforce. A vast majority of these Millennials want to work for organizations that foster innovative thinking, develop their skills, and make a positive contribution to society. More than previous generations, Millennials are ready to work independently if their needs go unmet by a traditional organization. The businesses up for the challenge of meeting these higher expectations will have the prospect of developing innovative products and services that benefit society, while attracting the most talented next generation workers.
Deloitte's third annual Millennial Survey was recently released and it explored what Millennials want from business, government, and the future workplace. The 2014 Millennial Survey gathered the views of more than 7,800 Millennials from 26 countries who had a college or university degree and who were employed full-time by organizations of varied sizes.
5 Key Survey Findings
1) Business Could Achieve More.
50% of Millennials want to work for a business with ethical practices. Millennials believe business can do much more to address society's challenges in the areas of resource scarcity (68%), climate change (65%), and income equality (64%). Although not fully achieving it's potential, Millennials still feel business is having a positive impact in areas traditionally seen as the responsibility of government such as education, skills, training and healthcare/disease prevention.
2) Government Is Not Doing Enough.
Millennials believe government has the greatest capacity to address society's biggest issues but are overwhelmingly failing to do so. Almost half of Millennials felt governments were having a negative impact on areas identified as top challenges: unemployment (47%), resource scarcity (43%), and income inequality (56%).
3) Organizations Must Foster Innovative Thinking.
78% of Millennials were strongly influenced by how innovative a company was when deciding if they wanted to work there, but most say their current employer does not encourage them to think creatively. Millennials believe the biggest barriers of innovation were management attitude (63%), operational structures and procedures (61%), and employee skills, attitudes, and diversity (39%). 60% of Millennials believe organizations can become good at innovation by following established processes and that innovation can be learned and is repeatable rather than being spontaneous and random.
4) Organizations Must Nurture Emerging Leaders.
Almost 1 in 4 Millennials are "asking for a chance" to show their leadership skills. 50% believe their organizations could do more to develop future leaders.
5) Millennials Are Eager To Make A Difference.
Millennials believe the success of a business should be measured in terms of more than just financial performance, with a focus on improving society.
It's crystal clear that Millennials are looking to business for innovation and want to contribute to the innovation for high impact. Organizations that foster a culture of innovation will retain top next generation talent and create the next game-chancing innovations.
Question: What initially attracted you to your first job?