Are you quick to blame technology for the erosion of human interaction? Look carefully at the below photo from 1947 of people on a crowded subway car. Would you cry foul on the newspaper for eroding the same human interaction?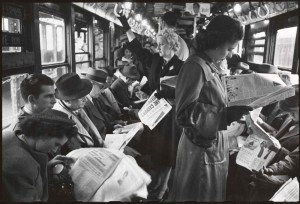 Those who cry foul on technology hate change and puppies. It's true technology is changing at an unprecedented rate but has it changed our natural human state? Our 1947 friends in the subway car would tell us they are not that different from the 2014 you and I.

More than likely the people in this photo are all strangers and perhaps the real problem is when couples or families lack interaction due to their smartphones and iPads. However, Gary argues that when you see young people out to dinner on their phone..."at least they're doing what they'd rather be doing instead of pretending to listen to each other."

Ouch! Did Gary just call us all out for not listening to each other when we'd rather be catching up with interesting-er friends on Facebook? I think he did. Perhaps it stings so much because it's true.

Gary pokes at us further... "When you were a kid, how many real friends did you have? 8? 10? And when your mom sent you outside to 'play' and you sat on the tire swing, how many of them were you interacting with?"

Today's kids have the never-before-seen "ability to test their minds against millions of other kids at games, learn anything they want from Wikipedia, and stay in touch with every single person they met at summer camp through Facebook. If your kid really wants to go outside and play football, she will go outside and play football. Technology never took that option off the table."

What technology is really changing is our ability to comprehend, contribute and connect. Technology is accelerating our ambitions to learn more (comprehend), share more (contribute) and engage with friends and family more (connect). Technology has enhanced are human 1947 natural state to consume (as proved in the above photo) and now layered on the opportunity to contribute. (I wrote more on this specific topic here: The Mighty Media Shift From Consumption To Ownership.)

We aren't that different from the head-buried-into-newspaper peeps that came before us. Don't underestimate the head-buried-into-technology Millennials because as this recent Apple holiday ad shows...they might just surprise you with what they can contribute.
Of course, there is a time and place for technology (during those no-tech times, The 5 New Rules Of Face-To-Face Communication could help). But there is also a time and place for change and rewriting the status quo.

Question: What aspect of your life has technology really changed?