Want to build better habits to change your life but lack the community to kick your rear in gear? Let Lift be your catalyst for building better habits.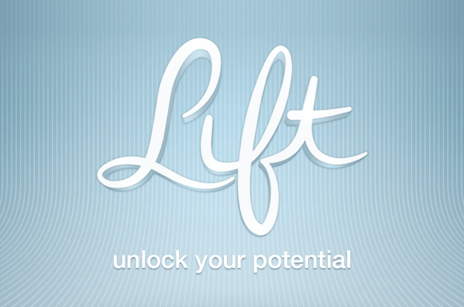 Lift is community supported goal tracking. I heard about this app on episode #80 of the Smart Passive Income Podcast where Pat Flynn interviewed Tony Stubblebine, the co-founder of Lift. It took me a few months to finally try the app but after the plunge, I was very pleased and wanted to share it with you.
Overall I give it a 4.5 out of 5!
I would have given it a perfect score if the app was more gamified allowing the user to achieve certain levels in order to unlock rewards/perks/badges/upgrades/etc.
Cost: Free
How it works?
Lift allows you to join habit communities, set reminders to perform the habit, execute the habit, track the frequency and share your progress with the community. It's not a to-do list but rather a habit building tool. Lift is based on the science of positive reinforcement where the community can give you "Props" (like a Facebook like) or comment on your achievements. Those that share their progress with friends are twice as successful as those who use Lift privately. Community is clutch.
The co-founder is considering a potential new feature that deducts money from users' PayPal account every time they miss a goal. It would only be a few cents and of course the user would have to opt in and agree to link his/her PayPal account. Would you turn this feature on to help you get motivated? Not sure I would…but I'm open to it.
What surprised me the most?
How instrumental a digital community can be to spark and sustain motivation. I was super surprised by how motivated I got when the Lift community took notice. It was like a drug once I completed a habit and complete strangers provided digital high-fives through positive comments and "props." It's easy to rally with the community because they are pursuing similar habits. Iron sharpens iron...even digitally.
How to get started?
Visit

https://lift.do

.

Sign-up for iPhone or the Web.

Enter your name, email and a password.

Choose to connect to Twitter or Facebook to find friends already using Lift to follow and create community.

Join a Habit. Choose Fitness, Productivity, Mindfulness, etc.

For Example: If you select Fitness then you choose a specific habit such as go to the gym, bike, cross fit, walk, etc.

You also have the option to create your own habit. Keep in mind if the habit is too specific you may be the only participant and therefore will lack community support.

Set a reminder (day and time).

Add additional habits.

Execute habits.

Receive "Props."

Track your frequency.

Consider your human potential unleashed.
The habits I choose:
Be grateful for something or someone.

Tell my wife I love her.

Record podcast.

Write blog post.

Drink water.

Pushup(s).

Exercise.

Pray.
Other noteworthy habits:
Practice photography with your phone.

No email before breakfast.

Act like an extrovert.

Talk to one stranger.

Stop saying um.
Check out Lift and unchain the fury that is your human potential.
Question: What helps you to stay on track with your goals?