What type of Facebook posts do you comment on or share the most? Long paragraphs? Short text? Check-in notifications? Photos? Or video?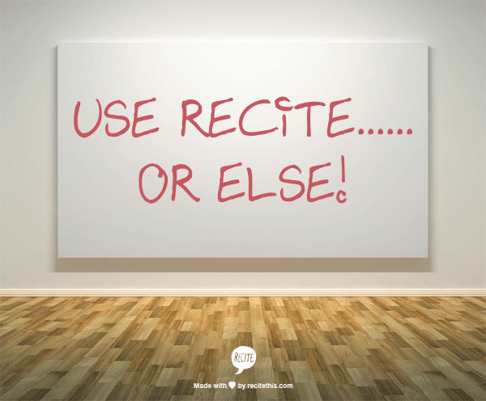 If you're anything like my Millennial peers you are engaging most with photos and videos. Visuals are dominating how we consume Internet content. Visuals tell a story that the best of text can never communicate. So the next time you are trying to make a point or grab attention online, try this tool to boost engagement...
ReciteThis allows you to take a quote and turn it into a poster-like image. In an instant, ReciteThis can turn your favorite quotation or message into a epic work of art. The tool is a bit limiting but that's the point. It does the hard work (design, formatting, color, etc) so you can create appealing visuals like a pro in no time at all. You'll have to get over the fact that the Recite bubble logo appears on your image but it's a small price to pay for free images that grab attention.
How It Works:
Visit http://recitethis.com.

Type your message.

Choose an image.

Click "Create."

Share it. (Download the image, email it or post to Tumblr, Facebook, Twitter, Pinterest, or StumbleUpon)
Ways To Use It:
Promote a product, event, blog post or service.

Create a stunning visual for your next presentation.

Inspire your social networks with a stunning image.

Spice up an email with your masterpiece.
I used ReciteThis to promote my education session at the 2013 Toastmasters International Convention across multiple social platforms and I was thrilled with the response and engagement.
I believe that design and creativity will become dominant skills in the near future. I hope ReciteThis can be a design/creative catalyst for your brand.
Question: What else is catching your attention online these days?