Inundated with how many social networking apps are available these days? Join the club. But whether or not you use them all, I think you'd agree it benefits you to stay abreast of tomorrow's tools and trends so you can position your brand or leadership for next generation success. Even if you don't download each of the below, hopefully they will serve as a window into what's next or spark your imagination...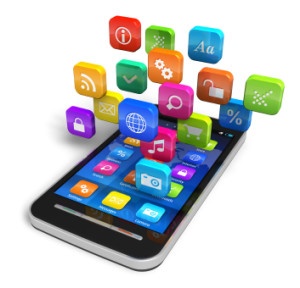 5 Fascinating Social Apps You Might Not Know About
Overview: A fun way to learn about people around you. If you're near something who also has Highlight, their profile will show up on your phone. You can see what you have in common with them such as the movies you Like on Facebook, mutual friends and/or their status (if they are looking to network, be left alone or mingle). Highlight gives you a sort of sixth sense and reveals hidden connections that would otherwise go unnoticed.
Cost: FREE
Platform: iTunes and Google Play

Cool Feature: Highlight notifies you if your friends are nearby or if someone interesting crosses your path.
Negative: Highlight can run in the background and be a real battery hog.
Overview: Your secret public. Whisper is a platform to express yourself anonymously through rich photo filters and fonts, share secrets and meet new people. This app challenges the notion that people only post things in public social networks that reflect well on them and the truth gets swept under the rug.
Cost: FREE
Platform: iTunes and Google Play

Cool Feature: Whisper can be a window into the undercurrent of culture and reveal what's really on the mind of many young users.
Negative: While some posts are funny and inspiring, many are thoughtless and crude.
Overview: New social networking platform for web and mobile devices that lets you share all forms of digital content including: text, photos, videos, audio and voice-notes. Basically a mash-up of Facebook, Twitter, Vine and Instagram.
Cost: FREE
Platform: iTunes and Google Play and Web
Cool Feature: Users own their content (copyright feature) and can monetize/sell their images or creations. There is an option of setting a monthly paid subscription where other users have to pay to access your content. ($1.99 - $34.99)
Negative: Too many sharing options makes it cluttered and a bit overwhelming.
Overview: A fresh approach to finding new music by using Tweets and follows to power discovery. Great way to spot emerging talent and to gain a pulse on what's trending in the world of music. Twitter's second major mobile application after the hit app Vine.
Cost: FREE
Platform: iTunes

Cool Feature: Listen on demand via iTunes, Rdio, or Spotify.
Negative: Only available on iOS.
Overview: The personal social network designed to bring you closer with family and friends. Path limits your connections to 150 to keep your community more intimate than other social networks. Your community can comment, smile, laugh, gasp, frown or love your photos, videos, places, music, movies, books, workouts, and more. Share to Facebook, Twitter, Foursquare, Nike+, and Tumblr or import to Instagram.
Cost: FREE
Platform: iTunes and Google Play
Cool Feature: Private one-on-one and group messaging with words, your voice, your location, photos, stickers, music, and more.
Negative:

It's a niche social network so you'll more than likely have to make new friends or invite your whole entire address book to reach the 150 threshold.
Question: What social apps are you obsessed with today?