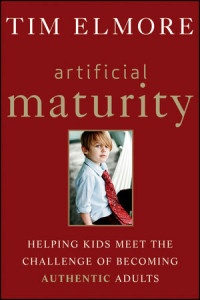 For the first time in history, young people do not need an adult (teacher, parent, or leader) to get information. It can be found everywhere. This new reality is fundamentally changing the way we lead, communicate and teach.
Overall I give the book a 4 out of 5!
Dr. Tim Elmore is a leading authority on how to understand the next generation and prepare tomorrow's leaders today. He is a best selling author, international speaker, and president of Growing Leaders, a non-profit that helps develop emerging leaders under the philosophy that each child is born with leadership qualities. Tim believes many adults have done more protecting than preparing of today's generation of kids. His goal in this book is to help adults rethink the way they parent, lead, teach, coach, pastor, and manage the emerging generations.
Tim describes that "artificial maturity" in the young generations can stem from an overexposure to information (too early) and an underexposure to genuine experience (too late). For example: Tim argues that because today's children are overexposed to data via the Internet, they are cognitively advanced but may not be as developed emotionally as they should be.
Parents and leaders cannot rely entirely on the techniques of past generations when leading today's generations. There is a new generation of parents and leaders that are having to adjust to never-before-seen issues and dynamics of today's high-tech, hyper-collaborative culture. I describe this shift in greater detail in this blog post: Why You And I Are The New Generation.

Tim's Tips to Lead Kids into Genuine Maturity
Teach them not only what to think but also how to think.

Give them a moral compass.

Give them autonomy slowly in early adolescence…push them to think ahead, develop a plan, and follow through on the plan.

Moms need to move from smothering to mothering.

Dads need to father, not bother.

Help them think outloud about their future.

Make kids accountable to the information they consume.

Have classrooms create experiecenes, not merely a teacher transmitting information.

Create labs for all the information children absorb on YouTube, from each other, in the classroom, church, etc.
Favorite Quote: "Adults must read their children before they lead their children."
Question: How does your parenting or leadership need to shift in order to effectively lead tomorrow's leaders today?