By now you've probably heard about and/or used the top social networking app, Vine. Twitter launched the new app on Thursday Jan 24th. Vine lets you share 6 second video clips. News stations, celebrities and thought leaders have instantly pounced on this game-changing tool.
Click the pics below to see my first Vine video attempts...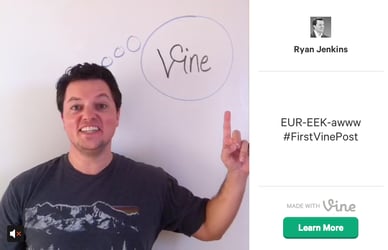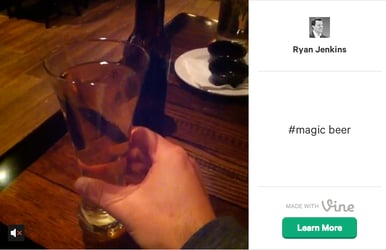 Overall I rate this app an 9 out of 10.
Cost: Free
Why It's a Next Generation Catalyst:
Twitter exploded due to the 140 character limit and created microblogging. Vine will explode due to its 6 second limit and will create a new niche of micro-vlogging (video blogging)

Video is a strong medium, its easy to consume especially if it's only 6 seconds. (It will surprise you how much visual information you can pack into 6 seconds)

As the web gets noisier you must be concise with your messages. Vine (like Twitter) will force us to be more and more concise with our visual communications.

Use the mega success of Vine to teach you about how the next generations prefer to communicate, collaborate and create.

This will ride on the creative curtails of Pinterest and Instagram. Picture and video sharing apps will continue to dominate.

It's über easy to use and it's mobile so it's easy to get hooked and integrate into our lives.
Download the app.

Sign-in using a Twitter or email account.

Choose profile photo, create password and finish profile.

Begin exploring other users to follow. You have the option of syncing your address book or Twitter followers.

Film videos by simply holding your finger on the screen to start and lifting your finger to stop.

Share videos with the world on Vine and/or Twitter. Facebook has pulled the option of sharing directly on their platform.
Just Vined displays a collage of Vine's latest videos.
Vinepeek aggregates Vine videos in real time and displays 6 second snippets of the world's everyday life. WARNING: Site is highly addictive.
Bottomline: Vine is a stunning way to see and share life in motion...that will challenge traditional ways of communicating. Try it today.
Question: How will this change the way we communicate via video?