In an effort to keep my tribe up to date of emerging trends, the 2012 Year On Twitter is a comprehensive list of the big things that happened last year in the world of Twitter. The data tells a story…how does it speak to you?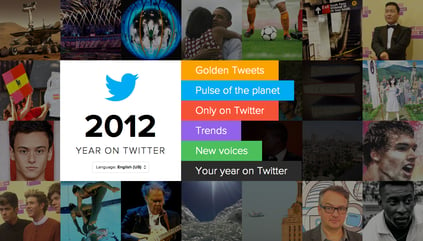 The 2012 Year On Twitter Trend Selections:
Golden Tweets:

Displays the most Retweeted tweets of the year.

Pulse of the Planet:

Highlights the biggest global discussions that generated the most tweets and retweets.

Only on Twitter:

Examples of Tweets that came alive organically on Twitter.

Trends:

Noteworthy spikes in Twitter conversations. 9 categories with the top 10 keywords listed.

New Voices:

High profile Twitter users who joined in 2012. Spoiler…PSY, the Pope, and Pele.

Your Year on Twitter:

Much like

Facebook's Year in Review

, this tool allows you to log in to view your most popular tweet, your most active follower, your top tweeted keywords and view EVERY tweet of 2012. Pretty cool and helpful in shaping your strategy for 2013. Here is a screen shot of mine: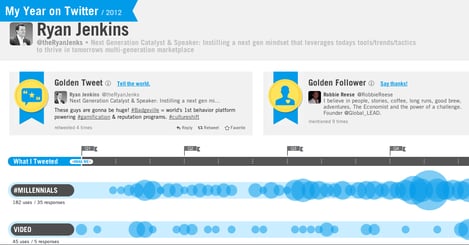 What I found interesting...
Twitter gives us real-time unique perspectives thru pictures. (Ex: @L2012PoolCam live underwater images)

Twitter alleviates the spin of the media. Hear right from the heart of athletes, politicians or celebs (Ex: Packers player cursing the NFL - oops!)

Twitter's reaching new heights…or should I say depths. (Ex: @JimCameron's deepest point of ocean tweet)

Twitter's brevity allows for instant appreciation.

Twitter offers a pure glimpse of what is catching the interest and attention of humanity.

Twitter allowed @MikeTyson and Evander @Holyfield to finally make peace on 2012's ear biting anniversary.
The burden of being a next generation catalyst is relentless learning, reflection and asking why. Using today's aggregated tools of what's on the world's mind will give you a leg up.
Question: What trend jumped out at you the most…and why?