How much did social media influence the young voters of the 2012 election?
Which candidate leveraged the next generation tool of social media most effectively?
No political slant here (there's been enough on Twitter & Facebook to last a lifetime)...just the numbers and trends, I promise.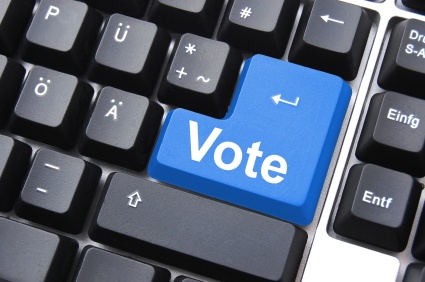 According to the early National Exit Poll conducted by Edison Research, the young
Millennial voters (ages 18-29) represent about 21% of the voting-eligible population
. Of those 21%, 19% of Millennials voted on Nov 6th (up by 1% since 2008).
This year Obama had a
60% to 36% victory among young people
(the highest any Democratic presidential candidate scored in 30 years among 18-29 year olds). The 2012 results were slightly smaller than the 66% to 31% win over John McCain in 2008. Interesting enough, Fast Company did a cover story back in April of 2009 about the Millennial, Chris Hughes, who helped make Obama's social media campaign a mega success.
Click here for article
.
How did Obama net such a large number of the young votes?
I believe social media has had an enormous impact on connecting with and influencing the next generation voter.

Social Media Numbers of 2012 Election
(as of 11/6/12 - some numbers are approximate to be easy on the eyes & brain)

Klout
The Klout Score is a single number that represents the aggregation of multiple pieces of data about your social media activity. 100 is perfect.
Obama = 99
Romney = 92
As a reference point Justin Bieber is a 91 and I'm a mere 51 :(
Twitter
Obama = 28,000,000 followers w/ 7,800 tweets.
Romney = 1,703,000 followers w/ 1,300 tweets.
(Obama's 'Four More Years' tweet with pic was the most popular of all time with 510,000+ retweets)
Facebook
Obama = 31,000,000 "likes" w/ 2,400,000 "talking about it".
Romney = 12,000,000 "likes" w/ 2,400,000 "talking about it".
YouTube
Obama = 2,900 videos w/ 258,000 followers w/ 262,000,000 channel views
Romney = 319 videos w/ 29,000 followers w/ 29,000,000 channel views.
Pinterest
Obama = 239 pins w/ 36,195 followers.
Romney = 79 pins w/ 2,900 followers.
Google+
Obama = 2,300,000 +1s.
Romney = 1,022,000 +1s.
Instagram
Obama = 1,600,000 followers w/ 153 photos.
Romney = 75,000 followers w/ 60 photos.
Reddit
A social news website where the registered users submit content in the form of either a link or a text "self" post.
Obama = held a live "Ask Me Anything" session & leveraged for final votes.
Romney = did not use the tool.

Millennials value transparency and openness in their leaders. Social media allows for that transparency and genuine connection to occur. The Obama campaign had a running start for the 2012 election but the social media numbers were just as lopsided in the 2008 election.
The numbers don't lie. A strong social media presence = influence.
Whether you like it or dislike it, the Millennials spoke and got their leader. Leverage social media as your next generation catalyst to position your brand or leadership to net the attention and loyalty of the Millennials.


Question:How will you intentionally engage with your next generation team or customers?