The Next Generation Catalyst Podcast episode #119.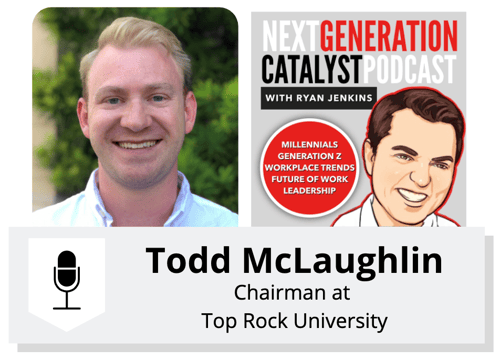 Millennial and Generation Z keynote speaker and author, Ryan Jenkins, welcomes Todd McLaughlin, Chairman and Co-Founder of Top Rock University, to the Next Generation Catalyst Podcast.
The topic discussed is the new university for the new normal. We also cover...
Evolving expectations of students
What is Top Rock University
Innovative approaches to education
Future trends impacting higher education

And more...
Learn more or apply for free at TopRock.org.
Listen or subscribe to the Next Generation Catalyst Podcast on Apple / Google Play / TuneIn / Stitcher.

I help companies better lead, engage, train, and sell to Millennials and Generation Z. If you'd like help solving tough generational challenges inside your organization, click here.