We aren't communicating as well as we think.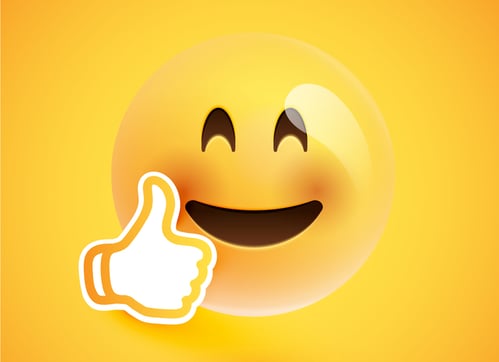 Ninety percent of the time people think their emails and texts are understood by recipients, but actually the messages are understood only 50 percent of the time, according to Nick Morgan, author of Can You Hear Me? How to Connect with People in a Virtual World.
For example, according to Morgan, recipients of a two-word email or text such as "nice job" or "great work" interpret the message as sarcastic 60 percent of the time.
Why do people misinterpret so frequently?
Humans have a tendency to assume the worst when the intent of communication isn't clear. The negative bias that once alerted the brain of cavemen and cavewomen of potential dangers, like bears or alligators, is still very active in the minds of today's modern workers.
How do we overcome negative biases hijacking the intended meanings of our communications and ensure our messages aren't misunderstood 50 percent of the time?
Use emojis.
4 Reasons to Use More Emojis at Work
1. Emoji acceptance is growing.
An early indicator of how culturally-ingrained emojis had become was in 2015 when the Oxford Dictionaries' "Word of the Year" wasn't a word but actually the emoji, 😂.
Sixty-one percent of emoji users use emojis at work. Twenty-six million custom emojis have been created in Slack since the "Add Custom Emoji" feature was introduced and "emoji use is basically universal" for the 13 million daily active users of Microsoft's unified communication and collaboration platform, Teams.
2. Emojis help clarify emotional intent.
Research indicates that the same part of the brain that processes human faces also processes emojis. When an emoji conveys a human emotion, it can be transferred in a text. Therefore, emojis help communicators manage the emotional tone of digital messages. And emojis help recipients interpret the tone of digital messages.
For example, an "Ok" text from someone can be interpreted as acceptance, apathy, submissive, passive aggressive, or others. But an "Ok 😃" text is easily interpreted as positive acceptance. Adding an emoji removes the emotional ambiguity. Emojis can also create more efficiency by quickly conveying the intent and context that would otherwise be missing in a message.
Unsure what emoji to use for a certain emotion? Use Emojipedia to search emojis by emotions or other categories.
3. Emojis enhance relationships.
The proper use of emojis help people form relationships and understand one another, according to a recent review of 50 studies on the use and impacts of emojis in communication.
More specifically, when emojis are used at work, the majority of emoji users feel they positively impact likability (78 percent) and credibility (63 percent), and make positive news more sincere (74 percent). And 81 percent of emoji users believe that people who use emojis are friendlier and more approachable.
In addition, 94 percent of emoji users said the "ability to communicate across language barriers" was the greatest benefit of using emojis.
4. Emojis can close the generational gap.

Read this to learn more.

As a Millennial and Generation Z keynote speaker and trainer, I help companies lead, engage, and sell to the emerging generations. If you'd like help solving tough generational challenges inside your organization, click here.