Whether you're conscious of it or not, the below unknowns are what contributes to the anxiety you feel when public speaking.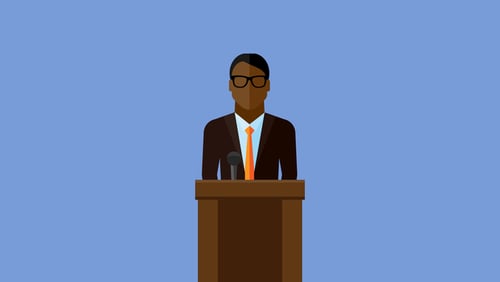 Turn unknowns into knowns and your public speaking anxiety will decrease and confidence will increase. (Read this to understand more about why people fear public speaking.)
Here's how to turn these unknowns into knowns.
Content, structure, and length of the presentation

Get to know your audience's wants and needs and allow those to drive the content of the presentation

The more you focus on the audience's needs, the less you're thinking about your own anxiety

Get to know your presentation by practicing it out loud

Speaking out loud will help you spot weak ideas, irrelevant data/stories, and disjointed transitions



Size and demographics of the audience

Get to know who will be in the room

Conduct interviews with audience members in advance of the presentation or arrive early to interact/observe the audience



Size and layout of the presentation room

Get to know the presentation room by arriving early and scoping out the environment.

Acoustics, size of the presentation screen, restroom location, etc. are helpful for putting public speakers at ease
The more you can mimic the live presentation (e.g. being on stage, using a microphone, clicking through the slides, etc.) the more confident you'll become



Audio and visual set-up

Get to know the tech that is needed to display your presentation (testing the audio (of your mic or presentation videos),

Ensure your slides are displaying appropriately on the presentation screen
Test the audio of your microphone and/or presentation videos
Have your presentation backed-up in multiple formats (.pptx, PDF, etc.) in the cloud (Dropbox, Box, etc.) and on a USB drive

If you present a lot, consider having adapters that allow you to present from your iPad or iPhone in case your laptop crashes

Establishing a relationship with the AV techs (if there are any) is important because they play a crucial part in the success of your presentation



Flow of the agenda

Get to know what's happening right before and right after your presentation

Have a clear understating of where you need to be and when
Ensure you end on time, no audience member ever got angry at a presenter who ended on-time
The unknowns that are possible during a live presentation are countless. However, being proactive about uncovering the bigger unknowns is crucial for reducing the anxiety of public speaking while increasing the likelihood of a successful presentation.
As a Millennial and Generation Z keynote speaker and trainer, I help companies lead, engage, and sell to the emerging generations. If you'd like help solving tough generational challenges inside your organization, click here.