Here are six tactics for effectively leading a remote workforce. Read this to learn five ways leaders can extend company culture to remote workers.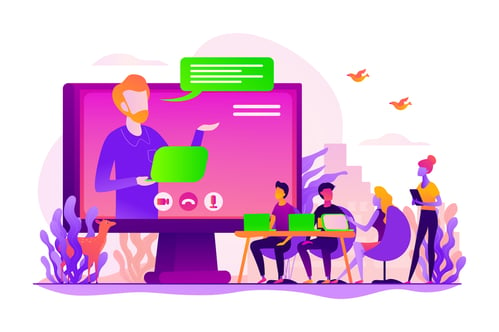 1. Set Clear Expectations
Remote work is usually less structured than non-remote work, therefore clear expectations are critical. Clearly outline the expectations and then offer the necessary autonomy and trust for the team to execute.
Mission and vision
Yearly, monthly, and weekly goals
Hours of operation
Available resources and tools
Preferred communication methods, channels, and timing
Contact into and guidelines for support
Project and/or task ownership
Team availability (when, where, and how to be reached
2. Connect Consistently

A lack of consistent connection, can leave remote workers feeling isolated and disconnected from the organization's goals and mission.
Schedule routine virtual meetings.
Designate a specific time (daily, weekly or monthly) where the entire team is online at the same time allowing for quick collaboration or help if needed.
Consider an "open status policy" (similar to an "open door policy") where your online status (busy, away, available, etc.) is accurate so that remote workers know when they can connect with you.
3. Choose the Right Channel
Today's workers have gotten fairly good at blending digital and non-digital communications in non-remote working environments. However, in a fully remote working environment, all communications are digital and a new set of rules, know-how, and abilities are needed.
When communicating with remote workers, ensure your intended message aligns with the appropriate channel. Here is a quick overview on how to use today's primary communication channels.
Phone: long, detailed, difficult, and/or emotional conversations
Email: objective and brief information.
Chat: informal messages, general announcements, news, quick team collaborating, and socializing.
Video (Zoom, Skype, FaceTime, etc.): focused, long, feedback-rich, emotional or difficult conversations.
4. Communicate Transparently
When communicating with a remote team, transparency is paramount. A remote team is able to be more productive and autonomous when they are well informed.
To allow a remote team to function smoothly as a single unit, make information transparent from the sense of being easily accessible and readily available by using file-sharing services like Google Docs, Dropbox, etc.
5. Track Proactively
The ability to track and measure progress is empowering to any worker, and it's no different for remote workers. However, the tools used to track progress for remote teams can be different. Consider time tracking, task management, and/or activity tracking tools to review what the team and individuals are accomplishing.
6. Monitor Well-Being
Setting boundaries between personal and work can be challenging for remote workers. The new independence of a remote worker leading to laziness and low performance can be very top of mind for managers.
"The greater danger is for [remote] employees to overwork themselves and burn out. It's the manager's responsibility to guard against this outcome," says David Hansson, New York Times Bestselling author of Remote: Office Not Required, says,
Help employees take the appropriate time for themselves and maintain work-life balance by utilizing tools like OfficeVibe, CultureAmp, and TINYpulse which can effectively monitor employee morale and engagement.
As a Millennial and Generation Z keynote speaker and trainer, I help companies lead, engage, and sell to the emerging generations. If you'd like help solving tough generational challenges inside your organization, click here.