The right tool executed the right way at the right time can save entrepreneurs time, money, and a whole lot of headaches. Today's digital age has ushered in countless tools that can propel your business forward. But which tools are right for your organization and worth the investment?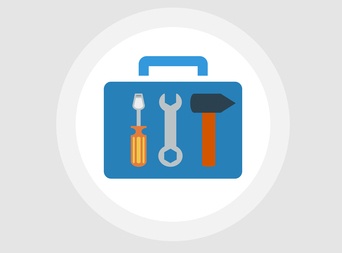 Entreholic, a company dedicated to helping businesses be successful when it comes to digital marketing and strategy in the new world of technology, offers an answer to this question with their Top 200 Tools to Fuel Your Business Growth.
The staff at Entreholic scours the web and interviews business owners all year long to assemble this informative annual report.
To make the list, each tool is carefully vetted. Key features are researched, customer reviews are considered, and each tool is pitted against other tools. The tools represent the most cutting-edge business resources needed to quickly grow your business while remaining budget conscious.
Short on time or looking for a personalized list of tools to meet your immediate needs? Check out this tool.
Here are forty-eight tested tools that can make running a business (no matter what phase) a little easier, efficient, and enjoyable.
48 Tested Tools for Boosting Business at Every Step
Human Resources
15 Five (Paid)
Inter-company feedback system that uses surveys to gather employee concerns and questions.
whosoff (Free)
The leading professional online application that allows you to manage your staff leave.
CRM
SugarCRM (Free)
A complete CRM solution that automates core sales, customer service, and marketing processes, with a focus on the individual.
Customer Experience Management
Crystal Knows (Paid)
Personality platform designed to give insight into how to craft email messages that get read by customers.
Hello Bond (Paid)
Service that sends handwritten-styled notes and cards to customers and potential sales prospects.
Support Tools
Voicestak (Paid)
Enables businesses to receive video messages from customers after visiting the website.
Community News
BuzzSumo (Free & Paid)
Tool to analyze what content performs best for any topic or competitor and find the key influencers to promote content.
Content Curation
Curata (Paid)
Software that enables marketers to scale content marketing to grow leads and revenue.
PublishThis (Paid)
Digital share platform for businesses to produce content for the web, email, and social media.
Content Management
Outbrain (Paid)
Content marketing platform to promote content on the web's largest publisher sites, including CNN, TIME, and thousands more.
Content Marketing
Learning Cart (Free trial & Paid)
Online tool designed to allow business to turn learning products into revenue with its integrated SCORM compliant learning management system.
Email Marketing
Activecampaign (Paid)
Marketing automation tool to send newsletters, design beautiful email campaigns, and keep in touch with your contacts and customers.
Market Research
Long Tail Pro (Paid)
Keyword research software used by marketers and SEOs to find the best long tail keyword ideas and quickly analyze competitor websites.
Marketing Automation
Zapier (Paid)
Online tool to help you automate tasks between web apps.
Search Engine Marketing
SpyFu (Free & Paid)
Search analytics tool to find your competitors' most profitable keywords and ads for paid and organic search results.
Social Media Marketing
MeetEdgar (Paid)
Online publishing tool to store social media updates and catalogue them in a library that you build over time.
Social Media Tracking
Fanpage Karma (Paid)
Social media optimizing tool to monitor any Facebook page, create insight reports and create your social media marketing strategy.
Web Analytics
Crazy Egg (Free & Paid)
Website analytics tool with heat and scroll map reports to analyze how website visitors engage with your website.
Webinar Services
Webinar Jam (Paid)
Webinar hosting platform using Google Hangouts to produce webinars that increase conversion rates.
Bookkeeping
Xero (Paid)
Cloud-based accounting software for small and medium-sized businesses as an alternative to QuickBooks.
Invoices and Payment
InDinero (Paid)
Web-based financial tools and data to understand, run, and grow your small business.
Payroll Services
Paychex (Paid)
Payroll, human resource, and benefits outsourcing solution for small- to medium-sized businesses.
Design Assets and Templates
Creative Market (Free & Paid)
Marketplace to buy and sell handcrafted, mousemade design content like vector patterns, icons, photoshop brushes, and fonts.
Design Collaboration
Codesign (Free & Paid)
Simplest feedback tool to get suggestions on your visual projects, websites, designs, and presentations.
Photo Editing
Canva (Free & Paid)
Graphic design software to create designs for web or print: blog graphics, presentations, Facebook covers, flyers, posters, and invitations.
Web and Mobile Design
Balsamiq (Paid)
Wireframing and mock up tool with a high focus on usability, allowing you to quickly come up with mock-ups, and easily share them with clients.
Office Tools
Docusign (Paid)
Electronic signature tool and digital transaction manager for facilitating electronic exchanges of contracts and signed documents.
Photography
Shutterstock (Paid)
Image library with stock photography, stock footage, stock music, and provides picture editing tools.
Video Hosting
Wistia (Paid)
Provides video hosting with viewer analytics, HD video delivery, and marketing tools to help understand your visitors.
Video Production
Jing (Paid)
Screen capture tool that enables you to make images or short videos, and instantly share them with others.
Video Review
Wipster (Paid)
An intuitive cloud-based platform for reviewing, approving and collaborating on video production.
Design
99Designs (Paid)
Online marketplace for graphic design, including logo design, web design, and other design contests.
Freelancing
Upwork (Free)
A global freelancing platform where businesses and independent professionals connect and collaborate remotely.
Calendar/Scheduler
Calendly (Paid)
A simple social media calendar tool, designed with freelance, agency and brand social media managers in mind.
Communication
Slack (Free & Paid)
Online communication tool for teams to have access to real-time messaging, archiving and search capabilities.
File Storage
OneDrive (Free & Paid)
Cloud-based tool that allows you to get to your files and photos from anywhere, on any device.
Organization
Now Do This (Paid)
Online to-do list and organizer to keep you productive throughout the day.
Password Management
Lastpass (Free & Paid)
Password management service which stores encrypted passwords in private accounts.
Project Management
Active Collab (Free & Paid)
An all-in-one online tool for project management, team collaboration, and billing.
Writing Tool
Grammarly (Free & Paid)
A writing-enhancement platform to proofread, check for 250 different types of grammatical errors and perform plagiarism checks.
Advertising
Facebook Audience Network (Paid)
A new way for advertisers to extend their campaigns beyond Facebook and into other mobile apps.
Landing Pages
Click Funnels (Paid)
The one-stop solution to build, design, and track state-of-the-art sales funnels with ease.
Lead Generation
Opt In Monster (Paid)
Lead generation software that converts abandoning visitors into subscribers by leveraging dynamic marketing tools.
Web Development
Woothemes (Paid)
Web service that offers expert designs and coding for cutting-edge commercial themes and plugins for WordPress.
Article and Blog Writing
Writers Access (Paid)
Content marketplace to hire freelance writers directly to work on content for social media posts, websites, or blogs.
Business Plans
Go Business Plans (Paid)
Outsourcing tool to hire help from experienced business plan consultants and business plan writers.
Press Releases
PR Web (Paid)
Online press release dissemination platform to help you create buzz, increase online visibility and drive website traffic.
Proposal/Bid Writing
Qwilr (Paid)
Sales document tool designed to replace PDF proposals, quotes, and presentations with interactive and mobile-friendly webpages.
Consider Ryan Jenkins to be your next Millennial or Generation Z keynote speaker by clicking here...

This article was originally posted on Ryan's Inc.com column, Next Generation Insights.