Millennials expect promotions and pay raises to come early and often. Here's how leaders can channel this desire to their benefit.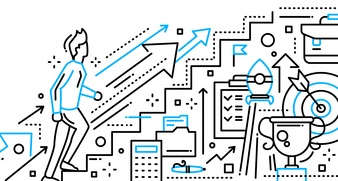 A consistent complaint about millennials is their unrealistic timeline for being promoted. They want a pay bump in a few months, a promotion a few months later, and the title of CEO by end of their first year. Growing up in fast times and coming of age in an on-demand culture, millennials have little patience for stagnation, especially when it comes to their careers.
According to the U.S. Bureau of Labor Statistics, as of April 2016 millennials held an average of 7.2 jobs from age 18 through age 28. A 2016 Gallup report revealed that 21 percent of millennials say they've changed jobs within the past year — more than three times the number of non-millennials. What's more, this millennial turnover is costing the U.S. economy $30.5 billion annually.
As work cycles continue to spin faster and project timelines become shorter, millennial employees will move up or move on with greater frequency than previous generations.
Leaders need to get more comfortable with the accelerated career advancement expectations of millennials and arm themselves with a few strategies to satisfy their desire for career progression and stop job-hopping.
To fully satisfy the diverse needs and desires of your millennial team, consider using a combination of these approaches.
Mine the Motivation
Millennials are accustomed to external motivators. Perks, trophies and praise were used to motivate millennials as they grew up. Because of this, many millennials lack the internal motivation to overcome career impatience. If you want to deepen the determination and motivation of your millennial employees, it's up to the leaders to cultivate it.
The responsibility rests on leaders to cast a compelling vision and help millennials discover their personal (intrinsic) motivation in achieving the vision and progressing within the organization. Help them to identify the necessary grit that won't let them quit.
Millennials who gain early clarity on their internal motivations and career progression goals will be able to adjust their expectations and will be better equipped to explore cross-collaboration opportunities to gain more experience and to put their anxious ambition to good use.
Commit to Coaching
Coaching is the leadership style that resonates most with millennials. Millennials were raised in organized activities where they were consistently surrounded by coaches. They view coaching as their path to greatness. The best coaches train, guide and advance while taking deep interest in those they coach.
Effective coaching builds trust, instills loyalty and helps millennials become valuable faster. Coaching allows a leader to reflect on the progress and impact a millennial is having at the organization and recommend the right opportunities where they could continue their growth and develop.
Coaching allows leaders to anticipate when a millennial is struggling, frustrated, bored or underemployed before they decide to leave the company. Leaders should reemphasize there is no quick remedy for job satisfaction. It's a slow, uncomfortable and complicated process
Connect With Contribution
Parents encouraged millennials to have a say at an early age. Access to the internet also gave millennials a platform to contribute and have a voice. They now carry this desire to contribute into the workplace. Leaders that create opportunities for millennials to contribute and cocreate will be rewarded with millennial loyalty and longevity.
Too often organizations underestimate the ability and desire millennials have to contribute. Underestimating leads to resentment and underemployment leads to impatience. Create environments that encourage and channels that enable contribution.
Motivate With Movement
To satisfy millennials' desire to gain transferable skills, get them moving throughout the organization. Millennials don't view career paths as linear like a ladder but rather multidimensional like a military cargo climbing net. They might be interested in moving left and then back down before moving up.
Be transparent and proactive in your communications about the available opportunities throughout the organization. Networking or social events, job shadows and online job directories are good examples of ways to help millennials explore movement throughout the organization.
At Taco Bell's corporate office, the company has a strategy where they loan their employees to other companies. If an employee notices another company is working on a project they are interested in, they can request to be loaned out on a temporary basis to work on that project — a nontraditional approach for a generation that approaches career and learning nontraditionally.
Develop for Departure
Offer the training, coaching and mentoring necessary for millennials to develop themselves out of their current role or the organization. Why develop someone out of the organization? Because the alternative of not developing someone and having them stay and underperform is much worse.
Liz Wiseman, author of "Rookie Smarts: Why Learning Beats Knowing in the New Game of Work," writes that a rookie mentality — approaching work or a job/task for the first time or from a new perspective — is the key to faster learning, better performance and persisting through failure. Departing millennials can make room for new "rookies" ready to perform better, and can bring a rookie mentality to their new role or company further advancing themselves or the organization
If millennials depart your company, they might not know how good they had it because they have nothing to compare it to this early in their career. When they experience the lack of development at another organization, they will boomerang back to your company. These will become your best company ambassadors. Leverage them wisely.
Consider Ryan Jenkins to be your next Millennial or Generation Z keynote speaker by clicking here...

This article was originally posted on Talent Economy by Ryan Jenkins.