The Next Generation Catalyst Podcast episode #039.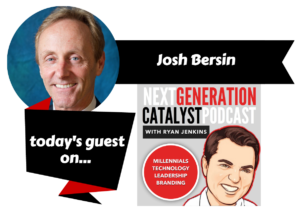 Episode Overview

In this episode of the Next Generation Catalyst Podcast, we interview Principal and Founder of Bersin by Deloitte and Forbes.com columnist, Josh Bersin. We discuss the "New Organization" and why today's organization need to be different by design.
Episode Takeaways
The four drivers of change that organizations are facing today.

What type of organizational design is best suited for the future of work?

How does the new organization effective the building of Millennial leaders?

How will learning evolve to meet the needs of the 21st-century professional?

What is design thinking and how it impacts tomorrow's workplace?

How the employer/employee relationship is changing.

Why the network of teams is important.

The 3 issues of leadership.

Episode Resources