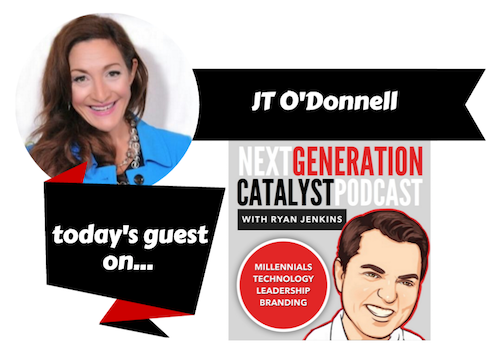 Episode Overview

In this episode of the Next Generation Catalyst Podcast, we interview CEO of CAREEREALISM and CareerHMO and Inc.com columnist, JT O'Donnell. We discuss various career dynamics that are shaping Millennials and other professionals in the 21st century and how you can sustain a thriving career.
Episode Takeaways
How many careers are today's professionals expected to have.

New challenges to sustaining a career in the 21st century.

Better understand how Millennials approach careers.

What are Millennials looking for in a career.

How do Millennials approach careers differently than previous generations.

Is job hopping a bad thing?

What is the Millennial Talent Trifecta and how they can leverage it to land a job.

Millennial career killers.

How to manage Millennials' career expectations.

How Millennials can achieve career success.

Episode Resources

Thanks for listening!
Question: How has managing your career changed in the 21st century?
Consider Ryan Jenkins to be your next Millennial/Generation Y or Generation Z keynote speaker by clicking here...