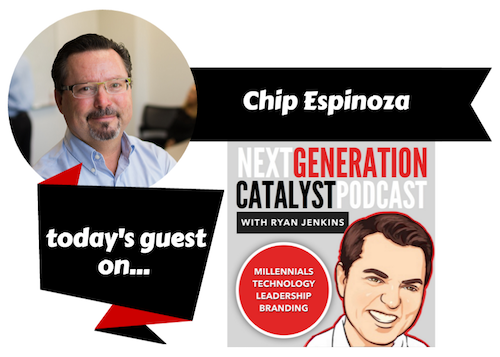 Episode Overview

In this episode of the Next Generation Catalyst Podcast, we interview author and leading expert in generational diversity, Chip Espinoza. We discuss the workplace management challenges for Millennials and how Millennials can overcome them to become great leaders.
Episode Takeaways
Why it's important to "Master Millennial's way before suggesting your way."

Why those with the most authority must adapt first.

How generations view work differently.

How to overcome the "bias of your own experience."

How work will change as more and more Millennials step into leadership roles.

How can Millennials transcend Millennial

stereotypes.

Key competencies that will help Millennials become great leaders.

Episode Resources

Thanks for listening!
Question: What can Millennials do to become great leaders?
Consider Ryan Jenkins to be your next Millennial/Generation Y or Generation Z keynote speaker by clicking here...