Reverse mentoring is a powerful tool to leverage in today's multi-generational workplace. Thomas Koulopoulos and Dan Keldsen shared a compelling case for reverse mentoring in their book, "The Gen Z Effect: The Six Forces Shaping the Future of Business." The below is a great example from the book of how Carlos Dominguez, a senior vice president at Cisco, is retaining Millennials and sharing their behaviors across generations by leveraging a formal approach to reverse mentoring.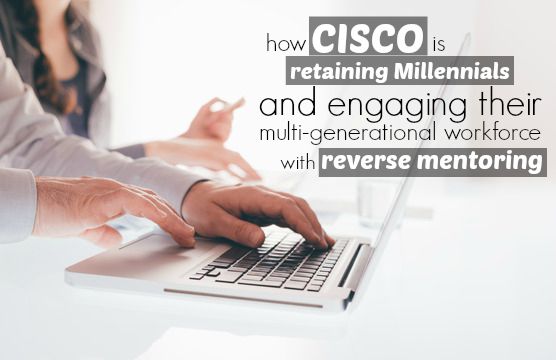 The real story on reverse mentoring at Cisco actually starts way before we did it. We hire a lot of college grads into what we call our Associate Sales Rep Program and Associate Systems Engineering Program.
We put them through an intensive twelve months of training to get them ready. We teach them technology, communication skills, even how to hold a fork and a knife and manners; it's a real polishing act and a big investment in our talent.
We were out at one of the events in Raleigh, and I remember sitting and talking to a group of these new hires. I [Carlos Dominguez] asked them—point blank—"What's your philosophy on life? What are you expecting?"
Related Read: How To Use Mentoring In Your Workplace [Guest Post]
Their responses were along the lines of, "We're not just driven by money. We want to learn, we want to make a difference, and we'll go wherever we need to do that."
The realization for me was that we were spending an exorbitant amount of money on training and educating them, and many of them might leave after a relatively short period of time if we don't give them good reasons to stay.
I asked myself, "What does Cisco need to do differently to keep them engaged and onboard?"
The idea we came up with was that we needed to give them a voice, to let them participate, and get them engaged and contributing while also giving them a taste for what the corporate world was like. In the process, we also needed to learn something from them about how they see the world and their values.
That simple insight was how the whole reverse mentoring idea came to be.
We started by creating a small group of people that were all on the social media team, which had all the young people—no surprise, right? I simply asked them, "Hey, do you think there's a potential for you folks to mentor some of the executives in the company?" They thought it was a great idea.
The process formally began matching the Millennials with the executives—not every executive participated. It was completely voluntary. We didn't want to force it on anybody.
What I found most interesting was how the relationships formed. Suddenly, a relatively new hire had access to a fairly senior person that they wouldn't have access to otherwise and from whom they too could get coaching, mentoring, and learning—it was clearly beneficial to both parties.
One of the things I've learned is that I don't force reverse mentoring upon our execs. I try selling them on the benefits of being technically savvy or aware.
Related Read: Reverse Mentoring: The Silver Bullet Sure To Engage A Multi-Generational Team
If you do that, there are some great benefits. I promote that with all of my peers but, frankly, some of them don't want to do it. If they don't want to do it, why put them in a situation where they're not going to grow? Or where it's not going to be successful?
Another part of the strategy for reverse mentoring is to pick an up-and-coming executive who can benefit from reverse mentoring. Start featuring them and highlighting them wherever possible so that everyone else gets the message, "Hey, this is something that I think is important," but you'll always get resistance.
Eventually, we created a very simple app to match mentor and mentee.
Once matched, they meet each other to see if there is some chemistry, just like any mentoring program; it's just a basic mentoring principle that the chemistry has to be right. What I think is a little different in the case of reverse mentoring is that in a traditional mentoring relationship, the mentee normally gets a lot more out of it.
In reverse mentoring, if it's done right, I'm not sure who's the bigger recipient of value because they're both getting something really vital.
Related Read: Reverse Your Stagnation With Reverse Mentoring
The younger person is, in some cases, mentoring some of the most powerful executives in the world. What they [the mentor] can get as an ally and as a coach is just immense. In turn, the executive is getting an invaluable education through the eyes of someone on the front lines of technology and behavior.
Here's the irony of it all.
My kids have been reverse mentoring me in technology for years. I'd always see them on Facebook, Twitter, or Pinterest, and would ask, "What are you doing?" They'd sit me down and walk me through it.
But for those who don't have that luxury in an informal setting, reverse mentoring is perfect.
Question: How has reverse mentoring worked in your organization?
Consider Ryan Jenkins to be your next Millennial/Generation Y or Generation Z keynote speaker by clicking here...