Good or bad, new or old, productive or unproductive, we all have them...habits. Whether you're an entrepreneur working on your business or an intrapreneur that behaves like an entrepreneur while working within a larger organization, you can benefit from Kate Erickson's list of essential entrepreneurship habits.
Kate is the Content Creator and Community Manager for EntrepreneurOnFire, the 2013 Best of iTunes podcast that interviews the most successful and inspiring entrepreneurs 7 days a week.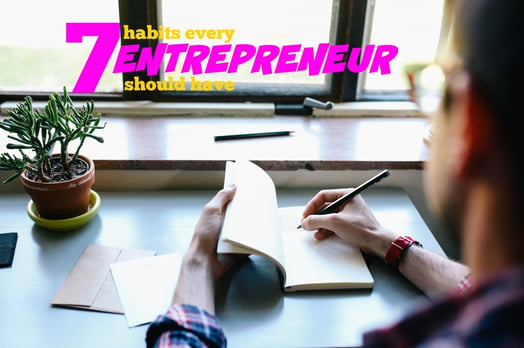 1. Don't keep your email tab open all the time (or your cell phone volume on)
Distractions will undoubtedly hold you back, and both email and cell phones are perhaps the most distracting things in today's social-centric culture. Have you ever thought to yourself "Oh yeah, let me just check real fast and see if that email came through…", and then 30 minutes later you're still in your email?
I urge you to practice putting aside specific times during your day when you will check email and/or your phone. Having them open/on and right next to you presents way too big of a temptation.
Remove the temptation, and you'll be surprised how easy it is to forget about them once you're focused on the task at hand.
2. Prepare for the week ahead (or day, if you prefer)
Waking up in the morning and asking yourself, "What should I accomplish today?" probably isn't the most productive (or efficient) way to start your day. Asking this question inevitably leads to you wondering if a, b, or c should be first on your list, which is in-and-of-itself wasting time.
Imagine if at the beginning of the week (or even each night before you "shut down") you plotted out the things you wanted to accomplish. Not just a list, but priorities and timelines included.
I can guarantee that if you plan out your schedule you will get a lot more done in a lot less time than if you leave it up to asking yourself, "What should I work on next?"
3. Celebrate the little successes
Too often we get wrapped up in the craziness of it all, and we forget to celebrate the little successes that we have each week, each month, each quarter and each year. I say "little successes" because the big ones might be harder to come by, and that's what makes it tough to be an entrepreneur.
By making it a habit to celebrate the little successes, you're allowing yourself to recognize progress, which is key for continued growth, motivation and inspiration. You're only making it more difficult on yourself if you never acknowledge that you ARE making progress and that you ARE doing things right.
Enjoy your journey.
4. Don't stress the small stuff
As easy as it is to think that our lives and our businesses are the be-all end-all of the world, we/they really aren't. It's just a fact.
If you're going to be a successful entrepreneur, then you HAVE to be able to accept that you aren't going to be able to figure everything out exactly when you want to. It's stressful – we all know it. But remind yourself that we're not (necessarily) here to save the world, and humans make mistakes.
Everything will be okay.
5. Throw fear (and frustration) to the wind
Two of the biggest road blocks in the life of an entrepreneur. Get rid of them! Practice telling yourself that it's not that scary when fear comes knocking.
Practice reminding yourself that frustration is only playing a game with you, and it wants to win real bad.
These are both things you can overcome if you make it a habit to refuse to let in.
6. Get out of the house/office
It's easy to get caught up, but taking a break is absolutely necessary. It could be a walk, jog, trip to the grocery store or out for a beer. Your mind can only process a certain amount of stuff before the output is just simply not quality. Stop spinning your wheels.
We are absolutely superheros, but even superheros need breaks.
7. Ask for help
You don't have all the answers, and that's a GOOD THING. But, there are other people out there who do have an answer and who can help you move on to the next thing.
Don't hesitate to reach out to those you know and ask for help. You're an entrepreneur in a specific niche for a reason – you're not supposed to know everything, so stop acting like you do!
See? It's not rocket science. Practicing these simple habits can and will help you become more motivated, dedicated, passionate and focused in your business, and therefore propel you forward.
Already practicing these 7?
If you're looking for a couple of bonus habits, then you're in the right place. I could go on forever.
Bonus #1: FOCUS on the task at hand
FOCUS – you know John and I both love this word, and it's for good reason. Without focus, it's quite possible we'll never be taking a step forward, and being able to start and complete something – whether it be a huge project or a simple task – is integral to our success.
Next time you find yourself getting distracted, remind yourself that FOCUS is key: Follow One Course Until Success.
Bonus #2: Exercise!
It not only makes you feel great, but it also helps you perform better in every other area of your life. Get your energy up with the help of a run, a yoga session or an Insanity workout and watch your productivity and happiness rise up right along with it. No joke – on the days when I work out, I not only get more done, but overall, I just feel better.
Question: What are your best habits as an entrepreneur or intrapreneur?
Consider Ryan to be your next keynote speaker by clicking here...


This article originally appeared on EntrepreneurOnFire.com and has been republished with permission.