Does your to-do list include the following: Schedule conference call, read article, post to Twitter and Facebook, check email, make dentist appointment, send a birthday gift, book trip, schedule another conference call, budget, check more email, make dinner reservations, and update LinkedIn? If you answered yes, congratulations you have just been diagnosed with Superhero Syndrome.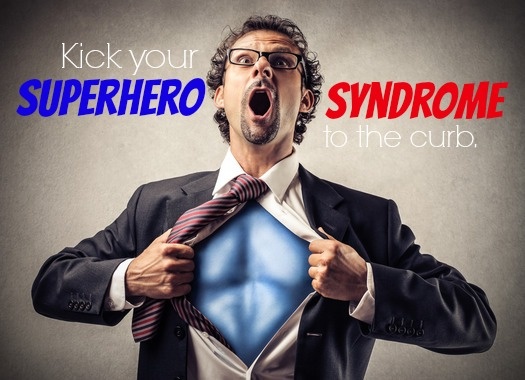 I too have Superhero Syndrome. As an entrepreneur, it's a badge of honor to wear all the hats but it's exhausting and ultimately not sustainable. As our business grows, I find myself needing to focus on the tasks only I can do and delegate the rest.
Entrepreneur, author, and the Virtual CEO, Chris Ducker, describes Superhero Syndrome as the need to do it all oneself and blindly believing that there is no kryptonite to our hard working. There are tasks that our outside of our strength zone that can be crippling to our productivity and should be outsourced so that we can remain in our strength zone.
Related Read: Master These 2 Zones For Mega Personal Growth
Over the years, I've been hearing more and more about the success of virtual assistants (VAs) from some of today's top thought leaders like Tim Ferris, Michael Hyatt, Pat Flynn, and most recently Chris Ducker. Chris wrote Virtual Freedom: How to Work with Virtual Staff to Buy More Time, Become More Productive, and Build Your Dream Business which provided the level of detail, necessary resources, and answered enough of my questions to finally push me to the point of seriously considering hiring a virtual assistant.
In this post, I will review what I learned from Chris' book and highlight some of the reasons I am considering hiring a virtual assistant. And in the second post, I will describe how I plan to utilize my virtual assistant.
1) What Is A Virtual Assistant?
VAs are generally self-employed and provide professional administrative, technical, or creative (social) assistance remotely from a home office. There are two types of VA outsourcing: role-based and project-base.
Role-based would be to hire a VA to fulfill a specific role or duty such as a receptionist or researcher. Project-based would be to hire a VA to fulfill one specific project like building a website. Chris encourages to hire VAs for the role, not the task. I plan to work with a project-based mindset but will keep a long-term perspective.
2) Why Hire A Virtual Assistant?
Your weaknesses are someone else's strengths.

Get rid of all of the unresolved to-dos you carry in your head that limit you from thinking clearly and creatively.

Technology has enabled us to connect with virtual workers so that we can work on our business versus working in the business.

Chris also believes the Millennial's (Generation Y) skill sets and tech-savvy mindsets make for some of the best virtual employees in the world.

3) What Can Virtual Assistants Do?
Perform online research.

Update your calendar.

Manage your email inbox.

Make a dinner reservation.

Draft your latest blog post.

Make doctor appointments.

Create an app.

Edit and upload YouTube videos.

Design websites or logos.

Update social networks with prewritten posts.

Design and order business cards.

Getting featured in local, national, and industry-related press.

Make online purchases (using a prepaid credit card).

Research competitors' websites for lists of products and prices.

Compile a list of local events that you could sponsor or where you could exhibit.

Review your blog's analytics to find out which pages or blog posts are receiving the most traffic.

Collect a list of articles from online news sources and e-mail you with a weekly update.

Transcribing your online videos and podcast episodes to use as future e-books and in info-graphics to promote your products and services.

4) How Much Does A Virtual Assistant Cost?
General Virtual Assistant (GVA): Full-time, $500-$900 a month

Web Developer: Full-time, $600 - $1,500 a month

Graphic Designer: Full-time, $600 - $1,500 a month

SEO Specialist: Full-time, $600 - $1,000 a month

Content Writer: Full-time, $400 - $700 a month

Video Editor: Full-time, $800 - $2,000 a month

App Developer: Full-time, $1,000 - $2,500 a month

Part-time (20 hours per week) rates are typically half the amount of the regular full-time (40 hours per week) rate. Both domestic and overseas VAs are much more interested in full-time positions than part-time ones. Costs may vary due to location (domestic or overseas), skills, and experience.
5) How Do You Find A Virtual Assistant?
Elance.com, oDesk.com, Fiverr.com, Freelancer.com, and Craigslist.org are all job-posting sites that allow you to find virtual workers to whom you can outsource your project-based tasks. For example, I've used Elance.com and Fiverr.com for projects like logo designs and podcast audio intro/outros.

EAhelp.com and Zirtual.com are good solutions for people who want a VA close to home in the United States.

VirtualStaffFinder.com is owned by Chris Ducker and is a one-stop hub for connecting entrepreneurs with virtual assistants in the Philippines.

At the end of the day, every superhero needs a trusted sidekick so kick your Superhero Syndrome to the curb with a virtual assistant.
Question: Would you consider using a virtual assistant? Why or why not?