With 41% of Millennials already having 4+ people reporting to them, could Millennial leaders be your company's success catalyst? A new global study correlates Millennials in leadership positions with company success.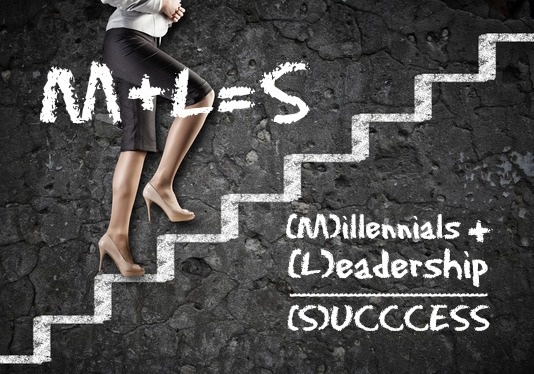 13,124 leaders from around the world, representing 48 countries and 32 major industries were included in the Global Leadership Forecast. The portion of the study that caught my attention was "Millennials: From Generational Differences to Generating Growth" where it identifies Millennial leaders as the catalysts for company growth.
Companies with a 30% proportion of Millennials in higher roles experienced "aggressive growth."

Companies with a 25% proportion of Millennials in higher roles experienced "cautious growth."

Companies with a 21% proportion of Millennials in higher roles experienced "no/minimal growth."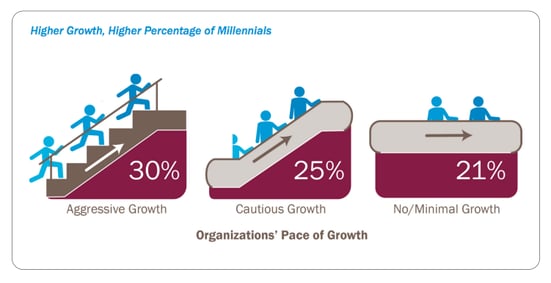 Millennials - From Generational Differences to Generating Growth
Conversely, the study found that Millennials were the generation that was the least engaged and the most likely to leave within a year. This catch-22 of disengaged Millennial leaders creates one of today's most perplexing workplace issue: How do you achieve enduring company growth with fleeting young leaders? The Global Leadership Forecast provides 3 suggestions that I agree with.
Related Read: 3 Ways To Strengthen Your Bench of Next Generation Leaders
3 Keys To Retaining Millennial Leaders
1) Clearly communicate a career path.
The #1 reason Millennials leave an organization is due to a lack of career opportunities. Help them to envision themselves at your organization long-term by communicating potential career paths.
2) Offer and make Millennials aware of development opportunities.
Millennials are interested in continuously acquiring relevant skills. According to the study, Millennial preferences for leadership development such as formal workshops, training courses, online learning, and special projects mirror those of other generations. By investing in their development you value the young leader.
3) Integrate social and mobile development programs.
Millennials also have a strong preference for using social learning (naturally), mobile development, and learning from others for improving their leadership skills. Build virtual learning platforms and provide opportunities for Millennial leaders to connect (virtually and in person) with others.
Related Read: 30 Retention Tactics To Passionately Engage Millennials At Work
Question: How have you seen Millennial leaders impacting the workplace?