If scanning articles was an Olympic sport, I'd be a gold medalist. In my world (and I bet yours as well) articles and information are shared as often and freely as the latest viral cat videos. My only defense against the content overflow is to consume it while on the go.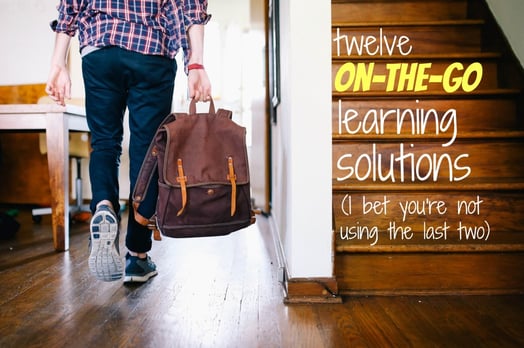 My default these days is to scan. I typically scroll through an entire article just to decide if it's worth scanning. If I don't see video, headings, subheadings, lists, and/or bold items, I am likely to not read. If only someone could read the articles to me? Oh wait…there's an app for that.
Zig Ziglar once recommended turning your car into a "rolling university" by listening to cassettes and CDs. Today, technology has allowed us to take that one-step further and turn our life into an always-on learning lab.
12 Effective Ways To Consume Content On The Go
Books. Books remain a primary consumption tool that provide great depth into a single subject.
1) Always have a book with you (digital or not) so that you can consume and learn in the cracks of your day (doctor's office, kid's soccer practice, auto-shop, etc.).
2) Leverage the Apple iBooks app or Kindle app on every device and make available at your fingertips the largest collection of books and ebooks ever assembled.
3) Audible allows you to enjoy listening to more than 150,000 digital audiobooks on your smartphone, tablet, or desktop.
Related Read: 5 Books That Were My Personal Development Catalysts. Which Have You Read?
Podcasts. Podcasts have quickly become one of my favorite ways to leisurely learn and grow. They offer extensive amounts of content and are not as in-depth as a book but often are not as current as the news or blogs.
4) Stitcher app has over 25,000+ podcasts, radio shows, and live radio stations available for free on Android and iOS.
5) Downcast is a "very cool ($2.99) podcatcher for iOS and Mac." I used to recommend the Downcast app until it kept crashing on me. I recently switched to Apple's Podcast app and haven't looked back.
6) Podcasts by Apple is the free, built-in app for iPhone and iPad iOS 7 and above users.
7) iTunes U (not really a podcast) is the world's largest digital catalog of free education content providing you access to complete courses from leading universities.
Video. Video is one of the best ways to consume current content. Viewing the news, YouTube, or MOOCs (Massive Open Online Courses) are all great forms of content consumption but most of the time they require both an audio and visual commitment which can limit when and where you consume the content.
8) Coursera is one of the most diverse online mobile education platforms available. Coursera offers 100s of courses provided by 100s of universities and institutions across the globe in topics ranging from physics to business management to computer science.
9) The official TED app has 1,700 videos (with more added every week). Pick a topic you are curious about and get viewing. Don't forget about the "Surprise Me" feature to get served unexpected, awe-inspiring content.
10) Podcasts offer episodes in a video format. Use the resources listed under "Podcasts" above to search for video podcasts.
Articles. Listening to online articles is a convenient, customizable, and current way to consume content. It's like podcasting your news and blogs on the go.
11) Umano is the world's largest collection of free audio articles narrated by real people. Umano features news, stories, and ideas from some of today's biggest sources like Mashable, FastCompany, Forbes, Entrepreneur, and CNET. Umano serves up article recommendations based on your listening history and allows you to customize channels and playlists. I enjoy firing up Umano while making lunch, brushing my teeth, or getting dressed.
12) SoundGecko enables users to listen to news, websites, and documents. Send articles to SoundGecko with 1 click while you surf the web for later listening on a mobile device. It's free for 30 articles per day (4,000 word limit per article). SoundGecko also allows users to upload PDF documents to have your journal articles, reports, and research papers read to you. And you can set up your RSS feeds of your favorite websites to be converted to audio and sent to your mobile or email.
Question: How do you prefer to consume content on the go?