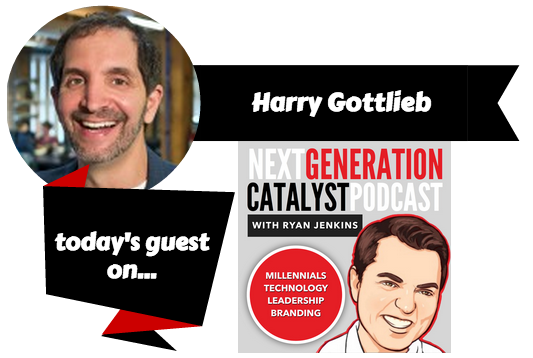 Review the Podcast and Get Exclusive Video
Click here to rate or review the show in iTunes. Then click the blue "View in iTunes" button. Then click the "Ratings and Reviews" tab. As a thank you for the generous review, I will send you an exclusive behind-the-scenes video. Simply, contact me after reviewing the show and I'll send you the video.

Episode Overview
In this episode of the Next Generation Catalyst Podcast, we talk with serial entrepreneur, Founder (and godfather of the culture) of Jellyvision Lab, and the creator of You Don't Know Jack. We discuss entrepreneurship, the power of games, and how his company achieved the #1 best place to work for Millennials.

Episode Takeaways
Harry's journey as an entrepreneur.

Why games and video are a powerful communication tool.

The importance of finding simplicity in a complex world.

What's behind the #1 Millennial workplace.

Company perks that work.

Ask A Question On Future Podcasts
Feel free to visit my voicemail page to quickly and easily leave me a message - ask a question, suggest a topic, or just say hey! I may even feature you and your question on the show!

Share the Love
Click here to share the love for the NGC Podcast with the world!

Episode Resources

Thanks for listening!

Question: What aspects of Harry's story stood out to you? And why?