Due to their vast number and strategic location in the life cycle, Millennials and Boomers are the lead characters in the looming generational showdown. We can get an interesting glimpse into what's next for America by understanding these generational trends.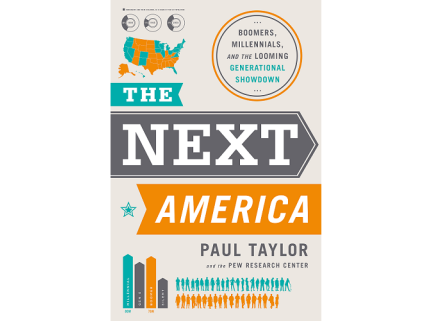 Paul Taylor applies a generational lens to explore the many ways America is changing in his book: The Next America: Boomers, Millennials, and the Looming Generational Showdown. It pays particular attention to our two outsize generations— the Baby Boomers, fifty-and sixty-somethings having trouble coming to terms with getting old, and the Millennials, twenty-somethings having trouble finding the road map to adulthood .
Paul argues as a people, we're growing older, more unequal, more diverse, more mixed race, more digitally linked, more tolerant, less married, less fertile, less religious, less mobile, and less confident. But I'll let you be the judge after considering the below.
23 Riveting Generational Stats That Reveal What's Next For America
Millennials
1) A record 1 in 5 American adults today — and fully a third under the age of 30 — are religiously unaffiliated.
2) In 1960, 72% of all adults ages 18 and older were married; by 2011, just 51% were.
3) Nearly 6 in 10 college and graduate students are female; nearly half the labor force is female.
4) 40% of all Millennial men ages 18 to 31 (and 32% of all young women that age) were living in their parents' homes in 2012, the highest share in modern history.
5) Nearly 9 in 10 Millennials say they already have or one day will have enough money to meet their financial needs. No other generation is nearly as optimistic.
6) Millennials are on track to become the first generation in American history to do less well in life than their parents.
7) 8 in 10 Millennials say the Internet has changed life for the better. Fewer than half of the Silent Generation agree.
8) Millennials are consuming less news than older generations did when they were younger. On a typical day, Millennials spend only about half as much time as the Silent Generation consuming news (46 minutes versus 84 minutes).
9) Fewer older people than young people think that "America's best days are ahead of us."
10) 94% of 12-to-17 year olds reported using Facebook , but many expressed waning enthusiasm for the platform due to too much drama; too much oversharing of the minutiae of life; and too many adults on the site.
11) Millennials are also buying fewer houses — especially in the car-centric suburbs — than their same-age counterparts did a generation ago.
12) A 2013 cross-national study by a prominent European research institute found that the US ranked worst among 29 advanced countries in the degree to which it imposes unfair burdens on future generations. The study looked at measures such as public debt per child, the ratio of childhood poverty to elderly poverty, and the elderly skew in social spending.
13)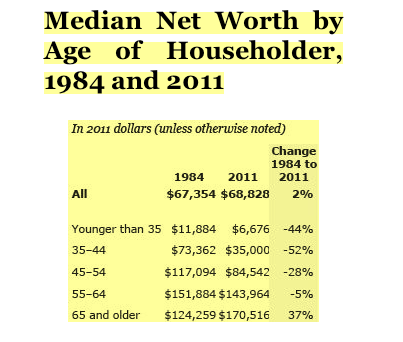 Boomers
14) Boomers are the most "sandwiched" generation in human history — more likely than any previous cohort in its middle age to have (and be supporting or caring for, in some capacity) parents as well as children.
15) The above is one of the reasons Boomers are staying active in the workforce for an average of 3 or 4 years longer than their parents did.
16) The US labor force participation among those 65 and older has risen from a low of 10.8% in 1985 to 18.5% in 2012.
17) By the time the youngest Boomers cross the retirement threshold in 2030, America's age pyramid will take on a shape it has never had before. About 1 in 5 Americans will be 65 or older, up from 1 in 7 now.
18) 93% of the growth in the US labor force from 2006 to 2016 will be among workers ages 55 and older. Older adults are staying in the labor force longer, and younger adults are staying out of it longer.
19) Some of the jobs Boomers aren't leaving are the same jobs Millennials aren't getting.
20)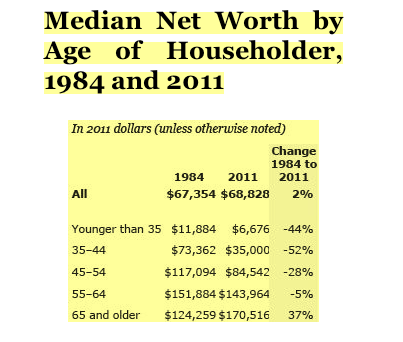 All Generations
21) Roughly 90% of the growth in the US labor force between now and mid-century will be from new immigrants and their children.
22) By the middle of this century, close to a half million people in the US will be at least 100 years old.
23) The US median age is 37 now; by 2050, it is projected to be 41. The global median age, by contrast, is expected to climb from 29 in 2010 to 36 in 2050.
24) The overall US population is projected to increase at a faster rate than average, thanks to births and immigration. By 2050, it is expected to be about 400 million, up from today's 315 million.
25) The world's population is projected to rise from about 7 billion now to 9.6 billion by the middle of the century, before leveling off at around 10 or 11 billion in 2100.

Question: Which trend do you think will have the biggest impact on America?