"Your mind is for having ideas, not holding them." ~David Allen. We don't need more time to be creative because it only takes a minute to think of a solution or make decisions. What we need is more margin. More margin to think clearly. Mental margin is created when you move the tasks that weigh heavy on your mind into a trusted collection system that you review regularly.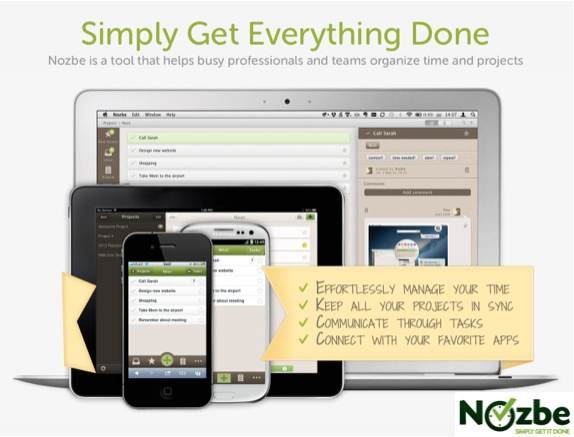 Overall I give the service a 4.5 out of 5!
Nozbe is a tool that helps the business professional manage tasks and time. I first heard about this tool from my favorite productivity blogger, Michael Hyatt. I had been using Carrot (which I still love) as my to-do list but I needed something more robust to manage and track my larger projects. Nozbe was the answer. I am still a student of this tool but wanted to share the features and perks so you can evaluate if it could be a success catalyst for you.
How It Works?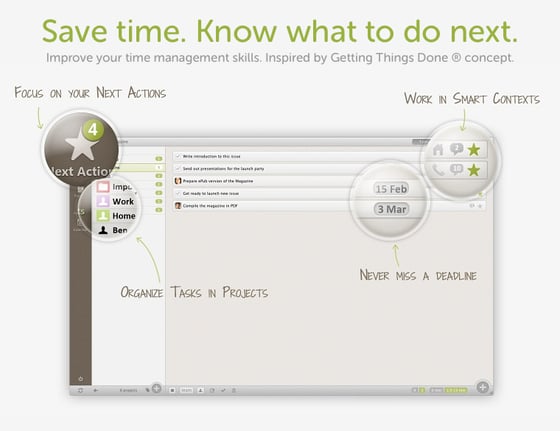 Nozbe is inspired by the Getting Things Done (GTD) methodology by David Allen. David describes his methodology in depth in his book, Getting Things Done. I highly recommend this book, it single handedly revolutionized the way I work.
Basic Features:
Drag and drop action items.

Add tasks to your calendar.

Add due dates to tasks.

Make tasks reoccurring.

Tag/Label tasks for easy categorizing.

Add personal or group notes to each task.

Share projects and tasks across teams.

Track tasks you've delegated to others.

Estimate the time of tasks.

Running total of the time it will take to complete all the tasks on a given list.
Advanced Features:
Prioritize your tasks with a star which will place the task item on the "Next Action" list.

Organize tasks into projects. Create as many Projects for your tasks as you'd like. For example, I have a project titled "Website" where I list all of the tweaks and upgrade tasks needed for my website.

Tag or label projects or tasks with "Contexts" to notify you of where and when the task should be completed. Contexts are a great tool to help you filter and further categorize your tasks.

View your scheduled tasks in a calendar or sync your Google Calendar. Tasks scheduled for today automatically get prioritized. I chose to color code all of my Nozbe alerts to show as orange task in my Google Calendar.
Why It's Effective?
Email wasn't designed for project collaboration. Communicating through actionable tasks and supplementing it with pictures, comments, or Evernote notes ensures you remain on the same page with your team.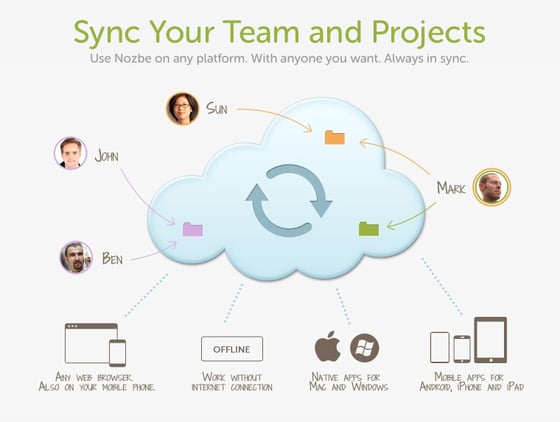 Nozbe is highly versatile and can be leveraged on any web browser or smartphone device.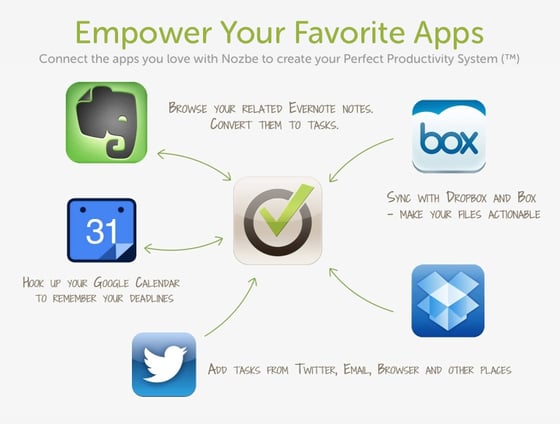 See your tasks in Google Calendar and add tasks to Nozbe through your calendar.
Challenges of Nozbe
Like any new habit, integrating Nozbe into your current routine is challenging. I still find myself using the app Carrot (like a dork, I've achieved Level 153 and am driven to keep leveling-up) as a simple to-do maker and using Nozbe for managing my larger projects. It's my goal to streamline 100% of my tasks into Nozbe. Part of the reason I chose to blog about this tool was to understand Nozbe better and to force myself to evaluate how I can use it more effectively.
My Favorite Aspects of Nozbe
Syncs with Google Calendar so that I can be alerted of upcoming deadlines.

It organizes much like Evernote which allows me to get super organized with the organization of my projects.

It's a simple uncluttered to-do list with easy tracking. Yet has robust project management features that allow me to label, color code, and set due dates.
How To Get Started?
Move your to-dos to to-dones with Nozbe.
Question: What are your task management best practices?

Disclosure: Affiliate Links
Disclosure of Material Connection: Some of the links in the post above are "affiliate links." This means if you click on the link and purchase the item, I will receive an affiliate commission. Regardless, I only recommend rockstar products or services I use personally and believe in the depths of my soul that they will add value to my readers. I am disclosing this in accordance with the Federal Trade Commission's 16 CFR, Part 255: "Guides Concerning the Use of Endorsements and Testimonials in Advertising."