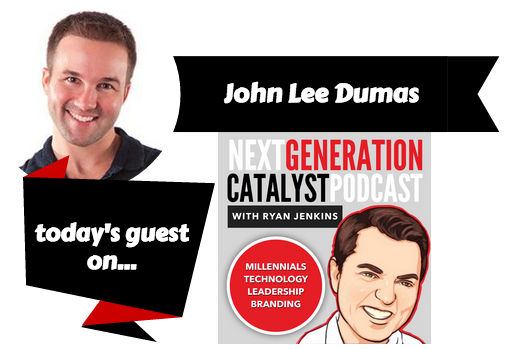 Review the Podcast and Get Exclusive Video
Click here to rate or review the show in iTunes. Then click the blue "View in iTunes" button. Then click the "Ratings and Reviews" tab. As a thank you for the generous review, I will send you an exclusive behind-the-scenes video. Simply, contact me after reviewing the show and I'll send you the video.
Episode Overview
In this episode of the Next Generation Catalyst Podcast, we interview John Lee Dumas and we discuss how to kick butt in entrepreneurship, launch a podcast and how to get your productivity soaring.


Episode Sponsors
Squarespace, the all-in-one platform that makes it fast and easy to create your own professional website or online portfolio. For a free trial and 10% off (your first purchase), go to squarespace.com and use offer code: Catalyst.
Mogreet Express, the fastest and easiest way to start sending video, picture and text messages to your audience. Msg and Data Rates May Apply. See how I use it by texting RESOURCE to 585858. Msg and Data Rates May Apply. Learn more by clicking here.

Episode Takeaways
The inspiration behind iTunes' best podcast of 2013.

Who is John's most inspiring podcast guest and why.

What will it take for entrepreneurs to succeed in the future.

How to become more entrepreneurial and execute on your passion.

Recommendations on how and why to start a podcast of your own.

John's best productivity hacks.

John's favorite web resources that propel his business forward.

Ask A Question On Future Podcasts
Feel free to visit my voicemail page to quickly and easily leave me a message - ask a question, suggest a topic, or just say hey! I may even feature you and your question on the show!

Share the Love
Click here to share the love for the NGC Podcast with the world!

Episode Resources

Question: How will you fire up your productivity, brand or business?