9 world renowned speakers, 5,000 people live in Atlanta, 115,000 participating via satellite from 750 countries around the world, 3 show-stopping acts and my mother = the epic 2013 Chick-fil-A Leadercast conference in Atlanta, GA. This was my fourth time attending the event live and my first time attending with my mom and yes...we were proudly representin' as the only mother-son duo! Below are my top takeaways from each speaker...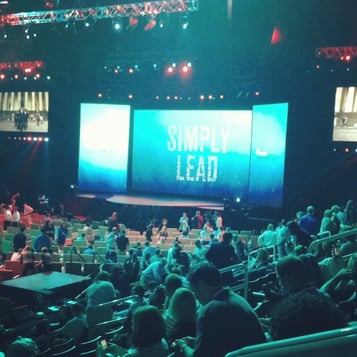 Leader Learnings from the 2013 Chick-fil-A Leadercast
Andy Stanley

, pastor of North Point Church (uber blessed to call his church my own) and bestselling author and communicator: Growth causes complexity. Complexity is unavoidable and the enemy of clarity. Growth creates complexity which requires simplicity.

David Allen

, bestselling author of

Getting Things Done

(a MUST read) and productivity expert: You can only feel good about what you are not doing when you know what you are not doing. Routinely park your ideas in a trusted resource to achieve clarity.

Sonya Rochards-Ross

, 2012 London Olympic gold medalist, track and field: I was simply inspired by her drive to make a 4-time Olympic appearance in 2016 and to be one of the few women to do so.

Henry Cloud

, bestselling author and leadership consultant: Don't hold on because you need the freedom for tomorrow. Embrace necessary endings as a leader. Yesterday is gone. Throw away the prom dress and face the fear.

John C. Maxwell

, bestselling author and leadership expert: Our problem = trying to find the leader to solve the problem. The solution = be the leader.

Coach Mike Krzyzewski

, head men's basketball coach, Duke University: Trust is key. Trust between two people makes them execute as one.

Condoleeza Rice

, U.S. Secretary of State (2005-2009): Leaders will never achieve the perfect work/life balance. Find your own rhythm.

Jack Welch

, former Chairman and CEO of General Electric: Online education will forever change education. The Jack Welch Management Institute allows students to learn on Tuesday, apply on Wednesday and then communicate how it went on Friday.

LCDR Rorke Denver

, Navy SEAL and star of the 2012 movie Act of Valor: We all have a tactical reserve. If pushed we can find the internal reserves to push higher, further, faster and longer.
Notable Appearances
I challenge you to attend the 2014 Chick-fil-A Leadercast live in Atlanta or via a simulcast site on May 9, 2014.
Question: What is your favorite conference? And what have you learned from a conference recently?