The last blog post of Gary Vaynerchuk's interview was a first recorded phone interview for me. I spent a considerable amount of time in research and preparation for the interview so I would like to pass on my new found knowledge with you. Here is 1 way you can record a phone interview and post to a blog or share with a team.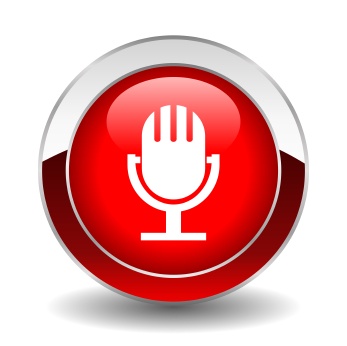 After polling my network and reading a number of blogs, I decided to use the Handsfree.ly app for the iPhone to record the interview. My back-up option was to use Google Voice since that is the free phone service I use for business.
Overall, I rate Handsfree.ly an 8 out of 10.
Cost: $0.99 (you get 3 free calls with the purchase.) In app purchases start at $1.99 for an additional 3 calls.
What It Does: High quality audio recorder that converts audio to mp3 files instantly and sends to your email.
Why I Chose It: App is able to record incoming and outgoing calls. Little up front investment. Easy one-time use. No account set-up.
How To Use:
It's highly recommended you are connected to wifi.
You may want to test the app before "going live". I practiced twice with 1 outgoing and 1 incoming call with my wife (she nailed it!).
Launch the app - duh.

Insert your phone number and email.

Choose country. (I've only used in U.S.)

Click the red record button.

Handsfree.ly uses an 800 number to immediate call inserted phone number.

Answer the call and listen to the automated welcome.

Listen for beep and the call is now being recorded.

Next, wait for other caller to call, place Handsfree.ly on hold and answer new call then merge both calls right away.

Or conference/add a new call while your connected to the Handsfree.ly 800 number and then once other party answers you merge the calls.

(To merge calls on an iPhone - simply press the icon that stats "Merge". This icon is on the same screen as the mute or speaker icons.)

To end the recording, simply hang up.

You will receive an email within seconds (depending on the length of the call) with the audio link, Dropbox/SoundCloud/mp3 upload options, and a few other helpful tips.
How To Post To A Blog:
I right clicked the audio link shared in the email and downloaded the mp3 audio file to my desktop.

I created a new podcast project in GarageBand (Apple's music app that allows users to create music or podcasts) and dragged and dropped the mp3 audio file.

I then trimmed the audio to cut out the 1-3 minutes of dead air in the beginning as I waited for the interviewee to call in.

Then exported the updated file to my desktop as an mp3 (GarageBand changes the file to a m4v file which is not playable on some PCs).

Then dropped the file in the blog post by clicking "Add Media" in the post editor of Wordpress.
I recently learned about the Wordpress Plugin: Blubrry PowerPress that is ideal for posting iTunes Podcast to a website. I have not used this tool but it seems ideal for podcasts.
Disclaimer: Different states have different phone call recording laws. Know your states laws before attempting or always get both parties consent. Click here for a helpful list of phone call recording state laws.
Question: How could you leverage recorded audio as a next generation catalyst to add value to your team or tribe?